Expanding the ultra low emission zone (Ulez) has led to "cleaner air across London", Sadiq Khan has claimed.
The Mayor of London made the comment after a Transport for London (TfL) report showed the proportion of vehicles in the expanded area that comply with minimum emissions standards has risen from 85% in May 2022 to 95% in September.
Mr Khan extended the Ulez zone from everywhere within the North and South Circular roads to cover all London boroughs from August 29.
For petrol cars to meet the emissions standards they must generally have been first registered after 2005.
Most diesel cars registered after September 2015 are also exempt from the £12.50 daily charge.
While acknowledging that there "isn't enough data in relation to air quality", Mr Khan told the PA news agency: "We do know though, that after one month there are fewer non-compliant vehicles, who are the most polluting.
"We do know there are more compliant vehicles, and that leads to a conclusion that there is cleaner air across London."
TfL's report showed that 93,700 vehicles which failed to meet minimum emissions standards were driven in the capital on an average day in the first month after the expansion.
Some 36% were exempt, leaving about 60,000, including those owned by private motorists and businesses, liable for the daily charge.
That is 3% of the total number of vehicles recorded as being driven in London each day.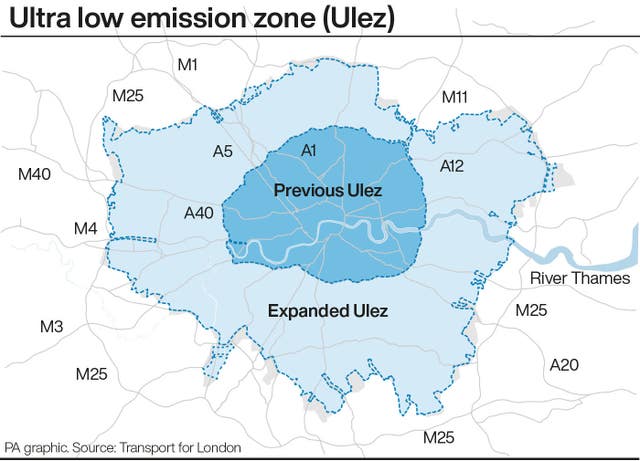 The figures suggest TfL receives approximately £730,000 a day in Ulez fees.
Enforcement action is taken in response to people not paying the Ulez charge in relation to 3% of non-compliant vehicles, equivalent to about 2,000 a day.
TfL said it issued 13,480 fixed penalty notices (FPNs) between September 26-30.
FPNs are £180, reduced to £90 if paid within 14 days.
Failure to pay an FPN or make a representation within 28 days leads to it increasing to £270.
TfL says it can use bailiffs to "recover monies owed", and their fees "may run into many hundreds of pounds".
An anti-Ulez Facebook group with more than 40,000 members is urging people to refuse to pay, as well as celebrating the vandalism of enforcement cameras.
TfL's director of strategy and policy Christina Calderato said: "It's great to see that 95% of the vehicles driving in the capital comply with the scheme's transformative air quality standards.
"The Ulez is highly effective in taking the oldest, most polluting vehicles off the roads."
A scheme providing up to £2,000 for Londoners to scrap a non-compliant vehicle remains open.