A motorcyclist who filmed himself pulling a wheelie and riding at an estimated 150mph has been given a one-year driving ban after being prosecuted with his own footage.
Jack Godfrey, 24, was stopped by a police officer who began to follow the superbike after noticing the letters on its registration plate were too small to read.
The officer saw Godfrey, of Basildon, speeding and undertaking before he stopped him on the A130 in Rettendon on July 15, Essex Police said.
During the stop, the officer noticed Godfrey had a camera fitted to the bike and seized its memory card, suspecting it had captured the rider's driving.
When reviewed, the dashcam had captured footage of earlier journeys that day.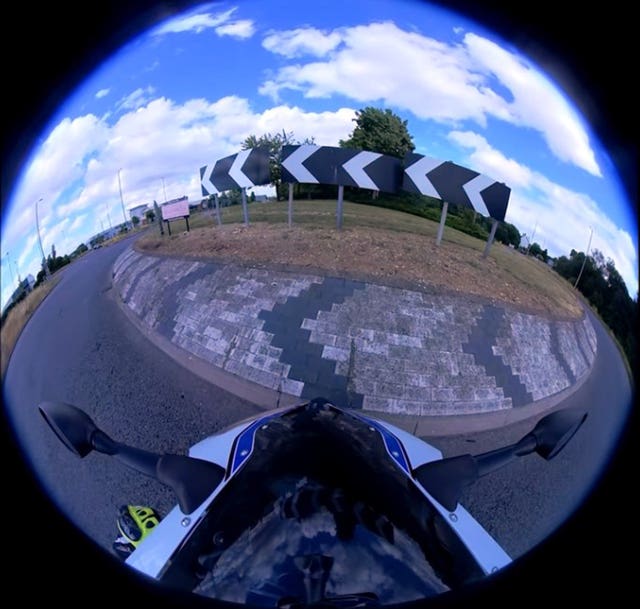 It showed the man riding along a number of roads at an "estimated top speed of 150mph whilst overtaking numerous vehicles and even performing a 'wheelie' whilst passing oncoming vehicles", Essex Police said.
Godfrey admitted dangerous driving and was sentenced at Basildon Magistrates' Court on November 3 to a one-year driving ban, the force said.
He was also ordered to do 200 hours of unpaid work, to re-sit his driving test and pay £269 of fines and costs.
Pc Danny Wheeler, who led the investigation, said: "There is no doubt that the rider drove in a dangerous manner that day, using the public roads of Chelmsford as a racetrack with no consideration for himself and the safety of other road users.
"At one point, he nearly collided into a roundabout.
"The footage was horrific, so much so that during interview, the rider admitted that even he was shocked by it and admitted he'd been foolish."
The court ordered no separate penalty for two other charges relating to the unlawful registration plate, which did not conform with DVLA regulations.