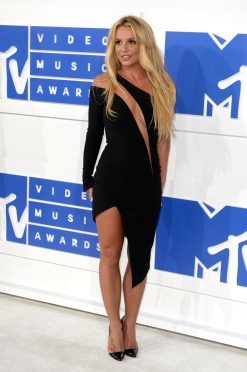 Britney Spears has said it felt "bittersweet" as she ended her Las Vegas residency with a New Year's Eve performance.
The singer began her stint at Planet Hollywood in the city more than four years ago.
Just before going on stage for the live show, which was broadcast as part of the New Year's Rockin' Eve celebration in the US, Spears expressed her gratitude to everyone involved.
She tweeted: "It's almost showtime! I just want to say thank you to the #PieceOfMe cast and crew, the city of Las Vegas, and all of the fans who came out to sing, dance and party!! What an incredible four years!! Love you all!!"
Spears, who performed her first show at the hotel and casino on December 27, 2013 also said: "Tonight is the night! Saying goodbye both to Vegas and 2017!
"It's bittersweet, but I'm looking forward to an amazing 2018!!"
According to her website, Spears's next scheduled performance is at Smukfest in Denmark in August.