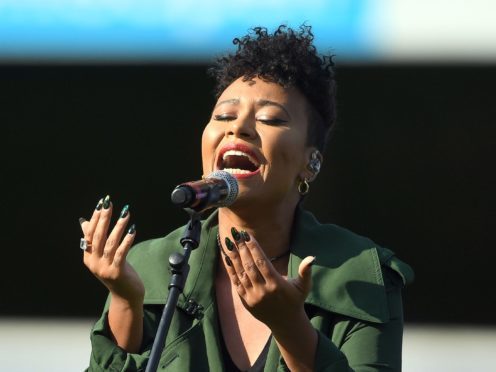 Singer Emeli Sande has spoken of her admiration for Formula One star Lewis Hamilton, while revealing she played for a football team growing up.
Sande will sing at the Laureus World Sports Awards in Monaco on Tuesday evening, continuing her association with sport having previously performed at the opening and closing ceremonies of the London Olympics in 2012.
"It's important because my music's always been linked with sporting events," she told the Press Association.
"I don't know if it's a coincidence but I feel like the dedication a lot of athletes put into what they're doing really matches a lot of lyrics in my song."
Sande identified four-time world champion Hamilton as the sportsman she held in the highest regard having been impressed by his desire to reach the top of his chosen field from a young age.
The 30-year-old, who is currently writing her third album, also drew parallels between achieving success in sport and music.
"I'm friends with Lewis Hamilton, I met him a couple of years ago," she explained.
"We were doing a show in the States and I finally got time to sit down with him and talk to him, and it's just the discipline I admire so much and also that pinpoint focus he's had from such a young age. I really admire him.
"He was talking about his music and how his passions have crossed over. I think he's played guitar since he was really young as well.
"It is that dedication and also that tunnel vision you have to have, and you have to keep this belief in yourself but also be realistic about what you're going into it and that it is a competitive arena.
"There are similarities (between sport and music) and it's nice to find where they link."
For the event in Monaco, Sande has taken time out of her schedule rehearsing in Switzerland for an Arts On Ice show that will see ex-Olympic figure skaters perform to her tracks.
The pop star claimed she had become "completely addicted" to skiing after trying it for the first time but confirmed she was keen on another sport during her early years in Scotland.
"Growing up I used to be in a girls' football club," Sande said.
"My sister was way better than me. I was the musician, she was the footballer, but I really enjoyed the togetherness it brought and being part of a team, and also that competition I thought was healthy."
– The Laureus World Sports Awards highlight sporting excellence and recognise those who use sport to change lives for the better. For more information, heard to www.laureus.com/awards