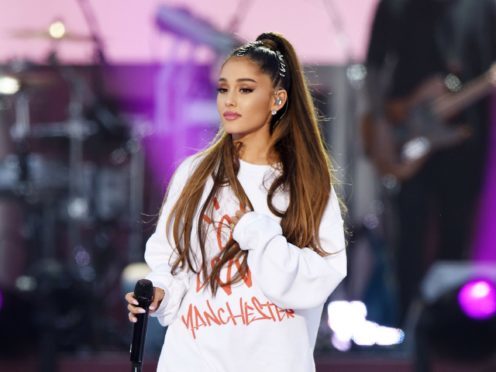 Ariana Grande's partner Mac Miller was among those praising the singer's first new music since the Manchester Arena attack last year.
American rapper Miller performed alongside Grande at her One Love Manchester benefit concert at the city's Old Trafford cricket ground in June, two weeks after a suicide bomber detonated a device at her concert, killing 22 concertgoers.
On Friday, 24-year-old Grande unveiled her new track No Tears Left To Cry, 11 months after the attack.
Re-tweeting a link to the song, Miller wrote that he was "very proud of this girl right here".
He added: "Welcome back. We missed you. One of a kind."
The former Nickelodeon star interrupted her Dangerous Woman tour after the bombing, returning for the One Love Manchester benefit concert.
Before Tuesday this week, when she started teasing her new music, Grande had not posted since January 1.
At the end of the pop star's new video, directed by Dave Meyers, a bee can be seen flying off screen – an allusion to the worker bee symbol of Manchester.
BBC Radio 1's Nick Grimshaw was also among those praising Grande's new music.
He tweeted that he had chosen to listen to her track while playing another song on his breakfast show by singer Charlie Puth.
"Listening to new Ariana whilst playing other songs on the radio… no offence Charlie Puth," he wrote.
Fans of Grande shared their thoughts about the track on Twitter, with one defending the singer for not releasing a ballad.
The fan tweeted: "The people who are complaining about ntltc not being a ballad clearly don't know how much it means to people who were at manchester."
They added that "a fast, uplifting song is what i needed. i feel strong".
Another fan responded: "And I feel the exact same, if it was about Manchester I wouldn't have been able to listen to it.
"I'm so glad she respected us enough to bring out a song like she did xx."
Earlier, Grande's half-brother Frankie Grande had tweeted that he was "so incredibly proud" of her.
"I'm so proud of the way u have brought people from all over the (world) together tonight w/ #notearslefttocry. music was made to unite & with this brilliant masterpiece u have done just that. i love u."