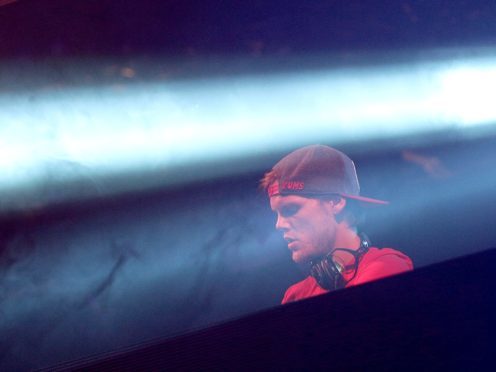 Nile Rodgers has offered his love to "little bro" Avicii following the Swedish DJ's death.
The electronic dance music producer, real name Tim Bergling, was found dead aged 28 in Oman on Friday afternoon.
An avid collaborator, Avicii worked with Rodgers and Adam Lambert on Lay Me Down from his debut album, True.
He had also been helping to producer the upcoming Chic album after forming an "instantaneous bond" with Rodgers.
The Chic star and producer broke down in tears when hearing the news of Avicii's death, he revealed in a series of posts on Twitter on Friday evening.
He wrote: "I was just told my dear friend Tim @avicii just passed away. Please let this be a hoax. If not #RIPAVICII one of the best natural melody.
"Dear Tim your family have my most heartfelt condolences. You were my little bro. Love always.
"I'm crying on the airplane. I hope I don't make the passengers nervous."
Lambert posted: "RIP Tim. You were a brilliant composer and a gentle spirit. Fond memories of creating music."
Dozens of other stars from across the world of music also offered tributes including Scottish DJ Calvin Harris, pop star Dua Lipa and Liam Payne.
American singer Charlie Puth tweeted: "Wow, I would like to take a moment to pay tribute to the man who really opened my eyes as to what my productions could one day sound like.
"@Avicii was a genius and a music innovator, and I can not believe he is no longer with us. RIP to the very best."
Payne posted he was "truly devastated" while Lipa said it was "too young and way too soon".
Harris tweeted: "Devastating news about Avicii, a beautiful soul, passionate and extremely talented with so much more to do.
"My heart goes out to his family. God bless you Tim x."
Stylist and DJ Gok Wan revealed he would be paying tribute to the producer at a show in Dublin on Friday night.
He wrote on Twitter: "So shocked to here (sic) of Avicii passing… I've been DJIng a few years now and his tracks always get the entire crowd jumping with absolute joy… a true trailblazer…
"I'm playing in Dublin tonight and will for sure be playing tribute with many of his incredible tracks… RIP."
Fellow Swedish producer Basshunter wrote "RIP my Swedish brother" on Twitter while Rita Ora, who collaborated with Avicii on his final track, said she had "no words".
She posted: "I have no words. I remember how amazing it was to make Lonely Together and it felt like just yesterday we were talking. Condolences to Avicii's family, friends, and the fans who supported him. May he rest in peace. Gone too soon. I'm devastated. Heartbroken."
Madonna shared a photo of the pair together and tweeted: "So Sad……. So Tragic. Good Bye Dear Sweet Tim. Gone too Soon."
Collaborator Flo Rida posted on Instagram: "My heartfelt condolences to @avicii and his family. You were an amazing musician, producer and DJ whose legacy will Live on. #GoodFeeling will never be the same again. I will always think of you when performing "Our Song." Rest in Paradise."
Linkin Park's Mike Shinoda tweeted: "So sorry to hear about @Avicii . I'm grateful to have crossed paths with him. My love and condolences to his friends and family. #ripAVICII."