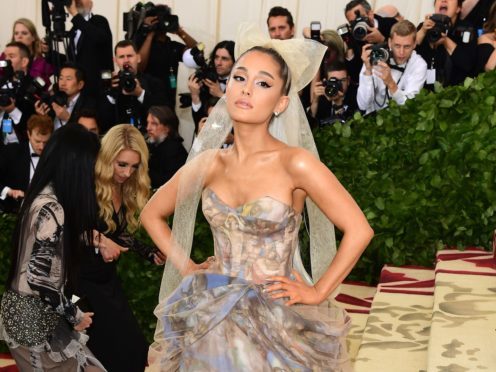 Ariana Grande has received largely positive reviews for her new album from critics, and the pop star's fans have shared their dizzying excitement for the record.
The 25-year-old US singer's fourth album Sweetener is her first following the terror attack at her Manchester Arena concert in May last year, which killed 22 people.
The album includes singles No Tears Left To Cry and God Is A Woman, and sees her working with the likes of producers Pharrell Williams and Max Martin. Grande also collaborates with rappers Nicki Minaj and Missy Elliott.
The Guardian's Alexis Petridis gave Sweetener three out of five stars, and praised Williams' influence.
He said: "The half of Sweetener with [Williams'] fingerprints on it represents a genuinely bold and exciting move on Grande's part. It's filled with tunes richer and more serpentine than your average millennial pop topline."
However, he said that the album is "entirely formulaic" and that it is "uneven" overall, that "attempts to balance the desire to – as Grande put it – 'make the weirdest thing we can' with something infinitely more straightforward".
Douglas Greenwood of NME gave the record four out of five, praising it as a "confident, accomplished, sometimes left-field collection of pop bangers, proving she's not shy of experimentation".
There was another four-star review from The Telegraph's Neil McCormick, who commented on the album making "no explicit references" to the events in Manchester last year.
He said it is a record of "breezy, modern, hip-hop-inflected R&B pop with upbeat lyrics about love and self-care", while also praising her "delicate and understated" vocals.
The Times' Will Hodgkinson commented on how Grande "provided a resistance of a different kind" on the album. Rather than referring to Manchester throughout, she carried on "in such poptastic fashion, as if the whole thing never happened".
In his four-star review, he said the "music is so sleek, catchy and downright undeniable you cannot help but be swept up in the sparkling good cheer of it all."
Kate Solomon at The Independent gave Sweetener three out of five.
She wrote: "Often unexpected, sometimes in a good way, but representing an artist trying to move forward while reluctant to relinquish old ideas."
Solomon said that at some points, the album feels more like Williams' than Grande's, and that it was "something approaching miraculous that Grande has managed to create and curate an album so devoid of despair, so full of enthusiasm for humanity".
On social media, Grande's devoted fans expressed their thoughts on the album, which was mostly well-received.
One fan wrote that "this whole album is a masterpiece", while another said: "Sweetener is truly!! Amazing!!! Ari honestly delivers her best and doesn't disappoint. I'm so grateful that I get to enjoy her music every single day."
"Wow Ariana is really out here giving us a true blessing tonight with Sweetener," another enthused.
"Oh my GOD Sweetener is so raw and powerful, @ArianaGrande has put so much of herself into it, feels like her most personal album yet, dealing w mental health feels like a particularly huge deal that I've not seen in her music as much before," one said.
However, not all reviews on Twitter were positive.
One person wrote: "Wow #Sweetener was really underwhelming. Most of the hooks are weak. Pharrell's production inhibits Ari's vocal abilities."
"Sweetener was such a let down wow," another said.