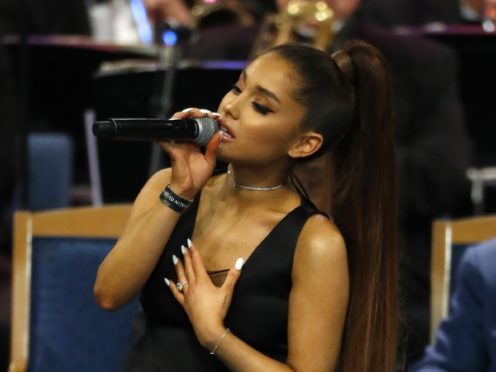 Ariana Grande performed a powerful tribute to Aretha Franklin as celebrities and dignitaries turned out to pay their respects to the Queen of Soul.
Bill Clinton, Smokey Robinson and Jennifer Hudson were among those to arrive at the Greater Grace Temple in Detroit on Friday.
Grande, one of modern music's biggest names, was invited to perform at the funeral after impressing Franklin's family with her tribute on Jimmy Fallon's The Tonight Show following the musician's death at 76 earlier this month.
A spokeswoman for the late singer also said she was "fond" of the 25-year-old.
Grande, who arrived with her fiance, the comedian Pete Davidson, took to the stage wearing a black dress.
She received a standing ovation for her powerful performance of Franklin's 1967 hit (You Make Me Feel Like) A Natural Woman.
Grande was backed by Greater Grace Temple's house band.
After finishing her performance, Grande attempted to leave the stage but the master of ceremonies, Charles H. Ellis III, called her back to the podium.
He joked: "When I saw Ariana Grande at the programme, I thought that was a new something at Taco Bell. Girl, I got to give you all your respect."
He added that Grande was an "icon" as the crowd cheered.