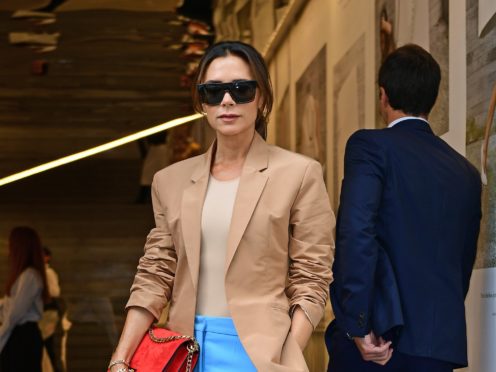 Victoria Beckham said "what you can achieve is limitless" as she reflected on her "nerve-wracking and all-consuming" career in fashion.
The pop star-turned-designer was honoured with the fashion icon gong at the E! People's Choice Awards in Los Angeles on Sunday, which saw performances from Nicki Minaj and Rita Ora.
The former Spice Girl – who will not be joining the band on their recently announced UK tour – was presented the honorary prize by model Amber Valetta, who wore a Beckham design for the occasion.
Accepting the award in front of a star-studded audience, Beckham, 44, first sent her "admiration" to the emergency services doing "an incredible job" battling the wildfires ravaging her "second home" of Los Angeles.
On her fashion career and marking a decade of her eponymous clothing brand, she said: "10 years ago I embarked on the most exciting, nerve-wracking and all-consuming vision and to have that recognised here tonight is just incredible.
"I always told myself: dream big and then dream even bigger. I wanted to show if I can do it then really anyone can do it. What you can achieve can really be limitless."
In a nod to Spice Girls hit Wannabe, Beckham added: "If you really, really want it."
Beckham, who celebrated her 19th wedding anniversary with husband David earlier this year, also paid tribute to any women "out there who have ever been doubted or doubted themselves".
Earlier, she said her fashion brand has been inspired by her time in the Spice Girls.
She said: "It's always about empowering women, making women feel the best, most beautiful and strong version of herself.
"With the Spice Girls it started as girl power. And now it's about empowering women through fashion."
Beckham added: "I feel so honoured to be receiving the first ever fashion icon award at the E! People's Choice Awards. This year I am celebrating 10 years of my brand and this is a wonderful way to mark that decade."
Also honoured at the fan-voted People's Choice Awards – held in November for the first time instead of their usual slot at the beginning of the year – was Keeping Up with the Kardashians, which was named best reality TV show.
Accepting the award, Kim Kardashian West stood beside her mother Kris Jenner and sisters Kourtney and Khloe Kardashian and Kendall Jenner as she urged people to "come together" during "these trying times".
Her home state of California is currently dealing with deadly wildfires ravaging the north and south while a gunman shot and killed 12 people at a bar in Thousand Oaks on Wednesday.
Kardashian West said: "Action is necessary. So anything that we can do to help, as simple as donating to the many organisations that are collecting supplies, no form of help is too small. Our country is stronger when we come together and we cannot face devastation alone.
"We must continue to reach out and help each other in these trying times. So thank you so much to all of the people who have voted for us. This is such an honour, and we would like to dedicate this win to all of the firefighters, the law enforcement, and the first responders.
"We really truly appreciate what you have done for all of us, so please let's continue to pray for everyone's safety."
Kardashian West, 38, wore an eye-catching outfit for the occasion, turning heads in a patterned nude and black see-through dress with white boots.
US actress Melissa McCarthy won People's Icon of 2018 while Bryan Stevenson won the People's Champion Award.
Stevenson, a lawyer, was introduced by John Legend, who praised his work "challenging racial discrimination in the criminal justice system".
Minaj took home both the female artist of the year and album of the year for her record Queen. In the latter category she beat rival Cardi B to the prize.
Walking Dead and Avengers: Infinity War star Danai Gurira took home the prize for action movie star.
She said: "To the people, thank you for affirming that women and girls, when they're given the chance to hang with the boys, can hang with the best of them."
Taylor Swift won concert tour of the year for her mammoth Reputation world tour while Avengers: Infinity War was named movie of the year, seeing off competition from fellow superhero film Black Panther.
Chadwick Boseman, who appeared in Black Panther, won male star.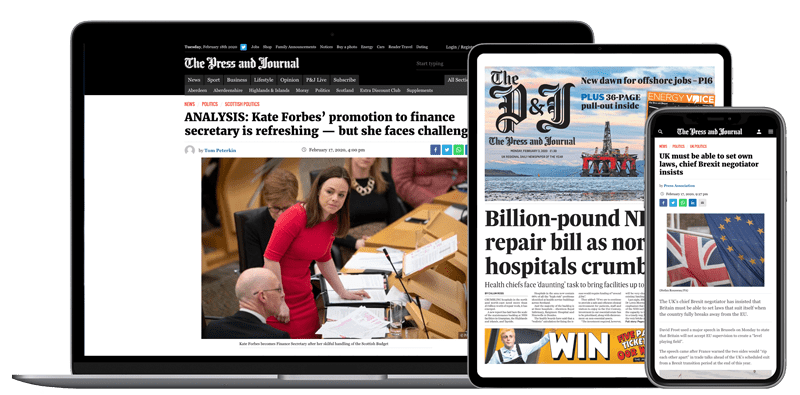 Help support quality local journalism … become a digital subscriber to The Press and Journal
For as little as £5.99 a month you can access all of our content, including Premium articles.
Subscribe