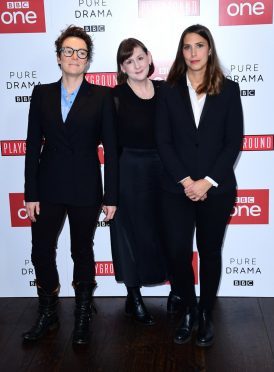 The producer of TV drama Little Women has described recreating the famous ice skating scene as the toughest challenge in adapting Louisa May Alcott's classic novel.
The team behind Heidi Thomas' re-working of the story journeyed to Ireland over the summer to film the 19th century Massachusetts-set tale.
Viewers who tuned into the three-part drama's first episode on Boxing Day saw the moment where youngest March sister, Amy (Kathryn Newton) crashes through a frozen pond before a tense rescue by sister Jo (Maya Hawke) and neighbour Laurie (Jonah Hauer-King).
Susie Liggat said: "Recreating the ice rink was probably the biggest challenge I had to face.
"Our ambition was to make it feel real; everything the women touched, how the house was inside and outside, the seasons…
"It was really hard to do that authentically and the effects guys in Ireland were amazing. It was a big challenge but I would like to think nobody would watch it and say 'You shot it in County Wicklow in August'."
Retelling the much-loved wartime story had an impact on both the female-led cast and creators, with Hauer-King joking that he volunteered to spend a day in a dress and corset in "solidarity" with his co-stars' characters.
Annes Elwy, who gives a nervous and heart-warming performance as Beth March, said: "The bond (between the March sister actresses) was insane.
"They know more about me than anyone else in the world, and likewise. From day one, we started sharing things that we had never shared with anybody before – and from that point on there was no point in having any less interesting conversations.
"We'd quiz each other about our favourite things or most hated things, and we shared the most intimate secrets… we are forever intertwined."
Similarly, for Apple Tree Yard star Emily Watson, who portrays March mother Marmee, she said: "I did feel very protective of (the actresses), but I also felt a great privilege to be around that kind of energy with a bunch of young women front and centre in this story.
"These characters came from a very particular place at a a very particular time when people were thinking about things in a new way and raising their children to be truly thoughtful… They have an aspiration to goodness, which is really rare and very special."
Thomas, who has re-read the original every 10 years since her first encounter at nine years old, also admitted her emotional connection to the matriarch.
"I always thought I was like Jo and that was where I stood in relation to all the other characters, but then coming back and rereading it in great detail, I thought 'I'm Marmee'.
"I stood in her shoes looking over the girls' shoulders and that was one of the most moving aspects of the experience to me, because the definition of a classic novel is one that you can revisit again and again and it grows with you."
:: Little Women continues on BBC One at 8pm on Wednesday.