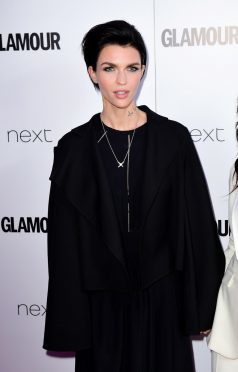 Ruby Rose has said she has given up smoking after having an operation on her back.
The Orange Is The New Black star will have to use a wheelchair and walk with a cane after the procedure.
The actress shared the news on Twitter alongside a picture of her in hospital in a wheelchair, writing: "So..For the past few years (decade) I've been dealing with a spine issue.
"I am now recovering from a back procedure, but I do need to stay active, so before I get seen with my cane and wheel chair in public, I'd rather put it out there that I'm fine and going to be fine."
She asked for advice on what video games to buy to pass the time, adding: "What I need to know now is when I'm not wheeling around LA like a 102 year old, what movies, shows, books and video games do you suggest… I'm buying a switch.. I'm looking at you @chrissyteigen what games should I get?"
She also revealed the procedure has helped her kick a bad habit, writing: "On the plus side guess who had to quit smoking !!!!! YAY!!!! Im done !
"I'm finally done.. that filthy, smelly, dirty, slowly killing you while you pay for it to suffocate you, is finally out of my life. I quit yesterday.
"And for my back ( and Mum ) I'll never start again."
She also shared a snap of herself in the wheelchair being embraced by her girlfriend and The Veronicas singer Jess Origliasso.
Dressed in a t-shirt with the word Strong Female Lead across the front, she captioned the photo: "Behind every strong female lead is another strong female lead."
The couple have been dating for more than a year.