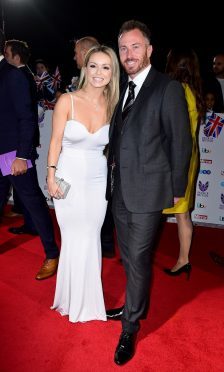 Former Strictly Come Dancing star James Jordan has called postponing his UK tour the hardest decision he has ever had to make.
Jordan and his wife and dancing partner Ola Jordan announced they were pushing back their Uncensored tour – due to kick off on March 3 in Blackpool – on Thursday after James suffered an injury during rehearsals.
The dancer vowed to come back "better and stronger" after being advised by medical professionals to take more time off work to recuperate.
Posting on Instagram, Jordan said postponing the tour "breaks my heart", adding he had suffered a double inguinal hernia which he had to have an operation on.
"I thought I would recover in time to do the tour but I'm still not right. My surgeon has strongly recommended we postpone the tour so I can make full recovery and not risk any long term damage," he wrote.
"This was the hardest decision I have ever had to make in my career especially because we were so excited to dance together again.
"Everyone has been so understanding and we have had so many kind messages already which means a lot.
"I feel terrible I have let so many people down especially the amazing cast of dancers we had lined up from all round the world. I can't even begin to tell you how fantastic they are, totally blew my mind.
"I believe everything happens for a reason although I don't know what that reason is yet," he added.
The couple had announced the news earlier in a statement, adding: "We hope you understand that health always comes first and hope for your continuous support in any of our future endeavours."
Ticket-holders for the shows, which were scheduled across the UK including in York, Birmingham, Guildford, London and Portsmouth, will receive a full refund from the point of purchase.
James appeared as a Strictly professional from 2006 until 2013, while Ola appeared from 2006 until 2015.
Since starring in the BBC One programme, they have appeared in other reality TV shows: James in Celebrity Big Brother, and Ola in I'm A Celebrity… Get Me Out Of Here! and The Jump.
They married in 2003 after being professional dance partners since 2000.