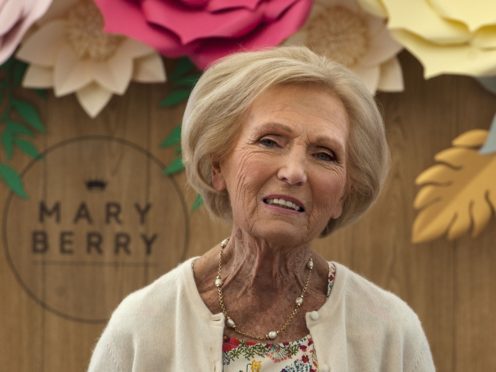 Mary Berry's culinary creations had to share the spotlight with a greedy chicken named Donald Trump on her latest show.
The former Great British Bake Off judge, 82, went to cook at a school where children help to grow the food in the latest instalment of the BBC's Classic Mary Berry.
The pupils introduced Berry to their chickens, and one little boy explained that the one which built a wall to keep the food to itself at mealtimes had been named after the US president.
Another chicken, with long colourful feathers, was named Obama.
Viewers loved the segment and went on Twitter to heap praise on the children.
"THE KIDS HAVE A CHICKEN CALLED DONALD TRUMP BECAUSE HE MAKES A WALL SO THE OTHER CHICKENS CAN'T GET TO HIM! This kid is amazing!" gushed one viewer.
"Got to love Irvin who looks after the school's chickens and names them. Irvin: this one is Donald Trump because he builds a wall and don't let the others feed! Who says kids don't understand what's going on in the world!" said another.
One said of the boy who named the chicken Trump: "What a guy!", while another person tweeted: "#ClassicMaryBerry – gotta hand it to two kids who have their own secret garden…..and have named their chicken Donald Trump "as he likes to build a wall" to stop other chickens getting food."
Classic Mary Berry sees the star serving up an array of delicious, comforting dishes.
It continues on Monday at 8.30pm on BBC One.