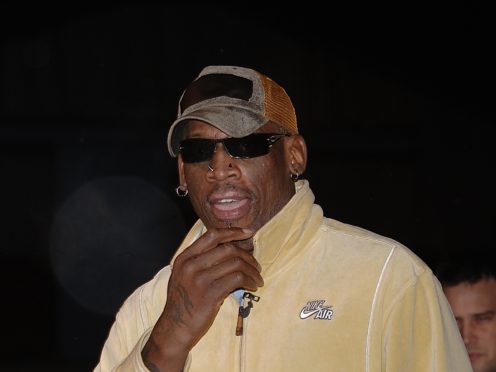 Former basketball star Dennis Rodman broke down in tears while being interviewed on television about the historic summit between President Donald Trump and North Korean leader Kim Jong Un.
The NBA Hall Of Famer – who appeared on Celebrity Big Brother in 2006 – wore a red Make America Great Again hat and sunglasses during an emotional appearance on CNN.
The 57-year-old is one of the few westerners to have met Kim during visits to the secretive country and landed in Singapore ahead of the meeting between the two leaders on Tuesday, which was aimed at eliminating North Korea's nuclear weapons programme.
During his interview, Rodman repeatedly called the summit "amazing" before breaking down and dabbing tears as they rolled down his face.
He revealed he knew "nothing" about North Korea when he first arrived there and originally thought he was only in the country to play basketball and "make the people happy".
He added: "It turned out so much more bigger than what I thought. I just fell in love with the country."
Rodman, who has also met Mr Trump, claimed the White House had already called him to say the president is "so proud of you" and described Mr Kim as a "big kid".
The athlete bonded with Mr Kim over a love of basketball and appeared on Mr Trump's Celebrity Apprentice.
Officials had previously said Rodman would play no part in the negotiations.