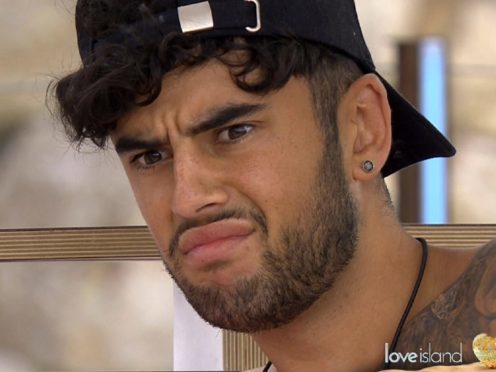 Love Island contestant Niall Aslam has left the reality show villa, ITV has announced.
His co-star Alex George will break the news to the rest of the cast during Tuesday's episode.
He will announce: "For personal reasons unfortunately he can't continue or come back to the villa."
Georgia Steel, who was coupled up with Aslam said: "Obviously I was coupled up with him so obviously I came closer to him than most people in here but it wasn't just that. He was actually my friend, my buddy."
George added: "I'm obviously sad that Niall's left the villa. We got on really, really well.
"He's such a great guy and I look forward to catching up with him and having some fun with him outside."
Meanwhile, there will be fireworks in the villa when Adam Collard will make advances towards new arrival Megan Barton Hanson shortly after ending things with Kendall Rae Knight in favour of Rosie Williams.
It comes after Williams dismissed concerns about Collard's womanising past saying: "I do trust Adam. I always think that you should trust somebody until they prove you wrong.
"Just because Adam's been a bit of a playboy in his past doesn't mean he's going to be like that with every girl.
"We both said that we've both come in here to find something real and to find somebody that we can have something with when we do leave the villa."
However, in a beach hut confessional, Collard said he was keen to slow things down with Williams and expressed an interest in the former stripper.
He said: "I think me and Rosie are moving a little bit too into the relationship bracket, which is not really on in here is it?
"Yeah, I think we should probably slow things down a little bit, just a tad.
"You can't say that you don't have a roving eye in here, I don't think any boy could possibly.
"Megan obviously, she's very nice. If I was to say that I wasn't looking at her in some sort of way and had an attraction, I would be lying.
"With Rosie, it's early doors. Megan does intrigue me and she seems like a nice girl but I haven't really spoken to her for very long at all."
In a conversation with Barton Hanson, he asked her why she had not picked him for a date.
Speaking about his relationship with Williams, he said: "I'm not a person for a lot of public affection. I train in the gym with the lads and she hovers round. Do you know what I mean?
"I came in here to get to know people and to get to know what I actually like in a person, and I think a couple of alarm bells started ringing."
After Barton Hanson relayed details of their conversation to Williams, the solicitor confronts him in front of the group.
She said: "So do you want to say something to me? Do you want to tell me something that happened today that maybe you should have had the balls to tell me before.
"Everyone else knows, you may as well share. The group's waiting."
"Something about 'oh, there's alarm bells ringing' because I'm a bit materialistic, guys, I don't know if you knew."
Later in the beach hut, she said: "Unless I feel 100% confident in myself that he can be trusted and that this can go anywhere, then I'm not going to pick him if it comes to recoupling.
"It feels really good to have the power and for the roles to be reversed for a change.
"I think I've definitely sweated enough when it comes to Adam, from the minute I walked through that door.
"So now it's my turn and maybe he won't be so big for his boots this time."
Love Island continues on ITV2 at 9pm.