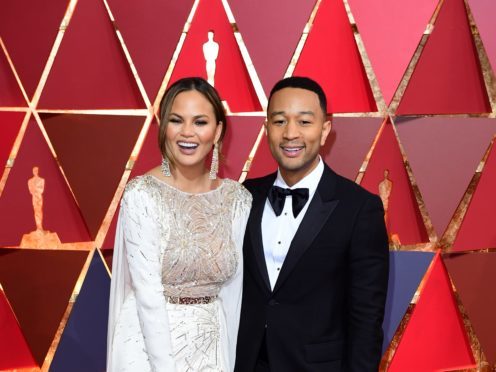 Model and television presenter Chrissy Teigen has been caught up in an earthquake while holidaying with her family on the Indonesian island of Bali.
Teigen, 32, posted a series of brief updates on her Twitter profile as the US Geological Survey announced that a magnitude-seven quake has struck Lombok island, which lies about about 25 miles east of Bali.
The Lip Sync Battle host initially wrote: "Oh my god. Bali. Trembling. So long.", before adding "Phewwwwww", indicating that the tremors had stopped.
Teigen is with her husband – singer John Legend – and their two young children Luna and Miles.
The former Sports Illustrated cover star revealed the house in which they are staying is elevated from the ground, which added to the terrifying experience.
Teigen wrote: "Oh man. We are on stilts. It felt like a ride. 15 solid seconds of 'holy shit this is happening.
"I very calmly walked outside saying clutching baby saying 'I'm naked. I'm naked. I'm naked'. Like a naked zombie."
Teigen then confirmed that aftershocks from the quake had started to hit the area.
She wrote: "I'm either still trembling or these little quakes won't stop. I'm trying to be normal here!".
It comes a week after a magnitude-6.4 quake hit Lombok on July 29, killing 16 people.
The National Disaster Mitigation Agency said the latest quake has the potential to trigger a tsunami.
Take That star Gary Barlow is also on holiday in Bali, and posted a message on Twitter assuring fans that he was fine.
"Thank you for your concern – we're all fine – a bit shaken up," he said.
Australian actress Teresa Palmer was staying in a treehouse in Bali.
She tweeted: "We felt it here in Ubud and it was VIOLENT. We are staying in a tree house and it was swaying like crazy. Very scary. Stay safe everyone."
"It was very scary and we are in Bali, I can't imagine how it must've felt to those closer to Lombok. Thinking of everyone affected," she added.