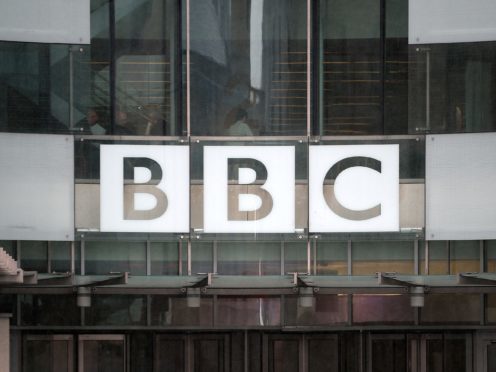 The BBC is failing female employees who suffer under an "invidious culture" of discrimination against women, a report on pay equality at the broadcaster has said.
The evidence is part of a report published by the Digital, Culture, Media and Sport (DCMS) Committee.
The broadcaster was branded a "disgrace" for allegedly coercing staff to take on work with no rights to sick pay, maternity leave, pensions or other benefits.
An inquiry into equal pay at the corporation was launched by the committee following the resignation of Carrie Gracie.
Gracie, the BBC's former China editor, spoke out after learning she was earning £135,000 compared to her male counterpart Jon Sopel who earned between £200,000 and £249,999.
The report further claimed that salaries are set by "an opaque system of discretionary decisions by individual managers", who have "devolved powers to make their own personal choices on staff pay".
It stated: "The Equality Act 2010 states that men and women must be paid the same for doing the same work, like work and work of equal value. The BBC (as a public sector employer) has an even higher level of duty to advance equality of opportunity.
"The BBC has failed to live up to this duty. Our evidence suggests women within the BBC are working in comparable jobs to men but earning far less."
It continued: "The corporation was unable to give us a good reason for why or how pay discrimination has been left unchallenged for so long. The BBC must take urgent action to remove discriminatory pay practice and its legacy from the organisation."
In the report, the BBC was accused of using euphemisms to avoid the phrase "equal pay" and refusing to properly address or admit its failings.
Bureaucracy at the BBC was blamed for taking away the voice of unhappy employees at the broadcaster, with the grievances taking months to address, and being adjudicated by panels who workers "don't trust".
Woman's Hour presenter Jane Garvey, who has been outspoken on gender pay, told the Press Association: "MPs on the committee sound as frustrated by the pace of change at the BBC as we are.
"The grievance process is complicated, stressful and time-consuming, and the new pay framework does nothing to help women compare salaries to men doing the same work.
"In a week where thousands of council workers in Glasgow have gone on strike over equal pay, this is an illustration that wherever you live in Britain, and whatever you do, chances are if you're female, you're still not getting equal pay."
The report also criticised the BBC's own internal investigation which concluded in January that there was no "evidence of gender bias" in BBC pay.
The broadcaster was accused of acting only after it received negative publicity.
The report found that although the BBC has a smaller gender pay gap – the difference between average earnings of men and women – than other organisations, it still has problems ensuring the same pay for the same work.
One anonymous BBC presenter, who gave evidence for the DCMS Committee's inquiry into the gender pay gap, said: "I found out that the existing male presenter was being paid 50% more than me per programme.
"When I asked for the pay gap to be corrected the line manager told me 'the BBC doesn't do equal pay', and that in raising the issue I was being 'aggressive'."
Evidence in the report further suggested that some presenters were "forced" to establish outside Personal Service Companies (PSCs), from which they would be hired to work by the BBC.
The report claimed this resulted in workers having "no entitlement to sick pay, holiday pay, maternity leave, pension rights or other benefits, because their contract is with the PSC not the BBC itself".
This was, according to the report, a BBC policy for engaging presenters between 2007 and 2012.
Some staff are being investigated for unpaid tax liabilities of hundreds of thousands of pounds as a result of the BBC's arrangement.
The new BBC charter stipulated that staff earning over £150,000 should have their earnings made public. However, the broadcaster has moved major talent to BBC Studios, an external commercial company with no duty to reveal pay.
In the report, the BBC was urged to reveal all pay for all outside work done for the broadcaster, which includes popular shows such as Strictly Come Dancing, Doctor Who and Top Gear.
A move to make the BBC Parliament channel digital-only has been criticised, with most viewers being over 55 and less likely to access the content after a digital switch. The report noted that the refusal of the BBC to commit to the channel long term is "troubling".
The BBC was also urged to make better progress on its plan to take on the financial cost of the over-75s' licence fee, which could cost more than £725 million in revenue.
The BBC said: "While we still have more to do, much of this report is already out of date.
"Recent disclosures by other media organisations show that the BBC's gender pay gap is amongst the smallest and well below the national average. But we do hold ourselves to a higher standard.
"That is why our action on pay has seen the BBC make real progress in addressing equal pay cases; carry out an independent audit of equal pay overseen by a former Court of Appeal judge; introduce independent oversight so that disputes can be resolved; take clear steps to rebalance top talent pay; reform our pay structure to ensure fairness and give an unprecedented level of transparency and information about pay ranges for all staff; and, set up independent reviews to see what further steps should be taken on pay transparency.
"That's why so many colleagues have contributed to projects we're doing – on gender, ethnicity, disability, LGBT and socio-economic diversity. We all want to make this a great place to work, where people are properly rewarded for their expertise and experience."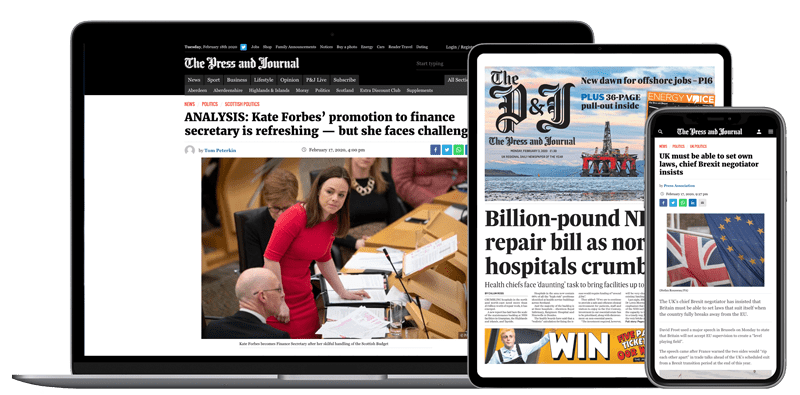 Help support quality local journalism … become a digital subscriber to The Press and Journal
For as little as £5.99 a month you can access all of our content, including Premium articles.
Subscribe