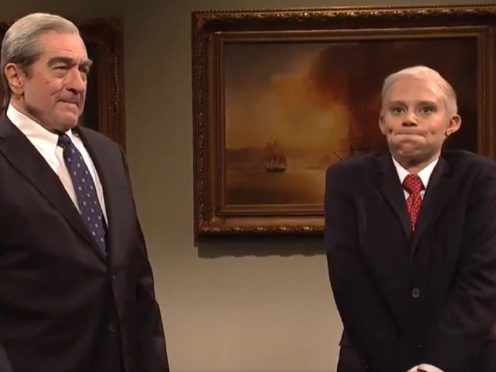 Robert De Niro has reprised his role as special counsel Robert Mueller for a surprise appearance on Saturday Night Live.
The Hollywood star appeared on the US sketch show to bid farewell to Attorney General Jeff Sessions, who was sacked by President Donald Trump earlier this week.
The departure of Sessions from government means Ghostbusters star Kate McKinnon is retiring her impression of the Republican.
De Niro, who has played Mueller on the show before, appeared in a suit with slicked-back grey hair and thanked Sessions for his help with his investigation into Russia's interference of the 2016 presidential election, saying he assisted him "more than you will ever know".
When McKinnon's Sessions asked if he will be in Mueller's report, De Niro replied: "A little bit."
Asked if the president will be in it, he replied: "A lot a bit."
He told Sessions: "You know in Harry Potter when an elf gets a piece of clothing it sets them free? This is for you."
Sessions replied: "A piece of toilet paper from the bottom of Mr Trump's shoe? I'll treasure this."