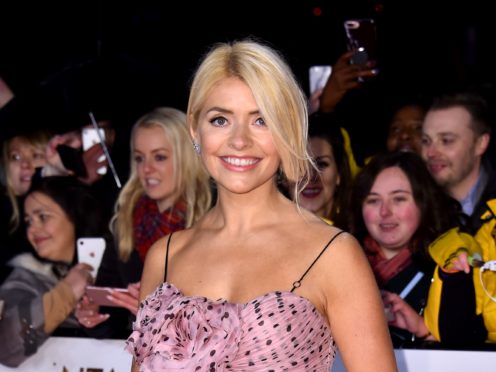 Dancing On Ice viewers were puzzled by Holly Willoughby's finale dress, asking why it was patched up with duct tape.
The presenter wore a pale pink satin dress for the final instalment of the ITV show.
But fans were distracted by two black glittery square sections at the waist.
"Why is Holly held in her dress with gaffer tape?" asked one person on Twitter.
"Surely the DOI costume department could've done a bit better than sticking a load of duct tape on Holly Willoughby's dress. Seriously… what is going on?" said another.
One fan said: "Holly looks gorgeous as always but what's with the gaffer tape stuck on her dress? Did she have a wardrobe malfunction before the show?"
"What on Earth is going on with Holly's dress? It's beautiful, then there is some black crafts paper tacked on the front!" tweeted another.
One viewer posted that the dress looked as if it had been "ripped and been patched with gaffer tape".
"Why does holly's dress look like it's ripped but they didn't have time to fix it so they've just used duct tape on it??" asked another.
Wes Nelson, Saara Aalto and James Jordan are competing in the final of the ITV show.