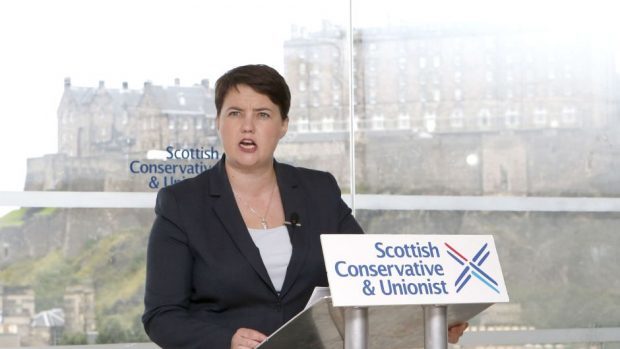 Ruth Davidson has sent a clear warning to the Prime Minister over plans for a DUP-backed Tory government by tweeting a link to a speech she gave on same-sex marriage in Belfast last year.
Speaking outside Downing Street yesterday, Theresa May said she would work with members of Northern Ireland's Democratic Unionist Party to form a government at Westminster.
However, LGBT activists have pointed to the party's record of opposition to issues such as gay marriage, abortion rights and global warming and called on Ms Davidson to condemn the move.
Ian Paisley Jr, son of the party's founder Ian Paisley, previously called homosexuality "immoral, offensive and obnoxious" and others in the group have argued that same-sex relationships should be made illegal outright.
A DUP MLA also argued gay people should be barred from adoption, saying: "The facts show that you certainly don't bring a child up in a homosexual relationship. That child is far more likely to be abused or neglected"
Although the Scottish Tory leader, who has spoken in the past of her support for same-sex marriage, did not openly condemn an agreement between the two parties, she did tweet a link to a speech in which she outlines the importance of the issue to her personally.
In the address to Belfast's Amnesty Pride event, Ms Davidson, said: "I am practicing Christian. I am a protestant. I am a Unionist. I am Scottish and British.
"I am engaged to a Catholic Irishwoman from county Wexford who was educated by nuns.
"For me, equal marriage isn't about one religion or county or community.It is about the people of Northern Ireland being afforded the same rights as everybody else.
"And speaking as a protestant, a Presbyterian and a Unionist, I think Unionists and Presbyterians should feel they have moral permission to back equal marriage."
It comes after LGBT charity Stonewall Scotland said they have "real concerns" over the deal betweeen the parties, claiming the DUP are odds with "most of the UK" on LGBT issues.
In a blog post, the group wrote: "It's vital that the Conservative Party stand firm on LGBT equality, and the Prime Minister makes that clear from the outset.
"We've made excellent progress over the past 50 years, but many LGBT people still face discrimination and abuse every day.
"This government must actively continue to work for a world where everyone is accepted for who they are."
Ms Davidson said she had been assured by Mrs May that gay rights would not be undermined by any arrangement with the DUP.
"I was fairly straightforward with her and I told her that there were a number of things that count to me more than party," she told BBC Reporting Scotland.
"One of them is country, one of the others is LGBTI (Lesbian Gay Bisexual Transgender and Intersex) rights."
She said that she had been given a categoric assurance that there would be "absolutely no rescission of LGBTI rights in the rest of the UK".