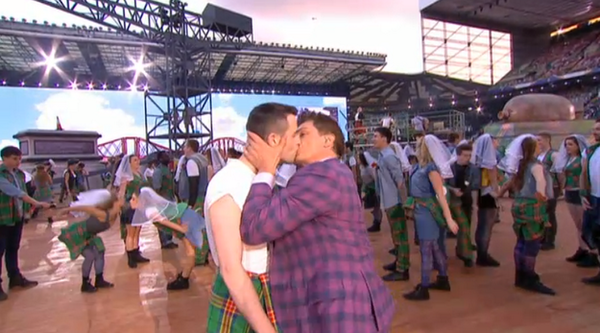 Glasgow Commonwealth Games opening ceremony wasted no time in drawing attention to the nation's support for gay marriage.
It took just three minutes for a shot of a Gretna Green sign to come on screen, with James Barrowman kissing a man and turning to run down an aisle with showers of confetti.
It's also no surprise, that just seconds after the reference appeared on screen, Twitter erupted.
Here's what you said online:
Love that the opening of the Opening Ceremony was a speed date with Scotland with a hosted by a lesbian and a gay man. Gaun yirsel', Glesga!

— Helen Mackness (@helen_mackness) July 23, 2014
A gay man & woman sing the opening ceremony song, a tongue-in-cheek & camp musical number featuring two men kiss. Brilliant. #Glasgow2014

— Graeme Shield (@GraemeShield) July 23, 2014
The Scots wasted no time adding support for gay marriage into #Glasgow2014 opening ceremony. #OnyaScotland.

— Roger Oldridge (@roger_oldridge) July 23, 2014
Opening ceremony a veritable cliche tsunami so far – plus an early gay marriage reference. Marvellous. #CommonwealthGames

— Geo Parkin (@geoparkin) July 23, 2014