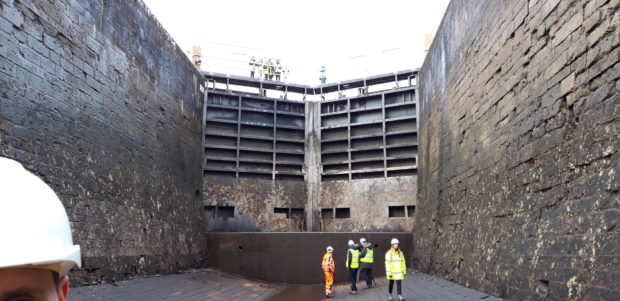 It was a once in a lifetime opportunity for those able to stand on the canal basin at Fort Augustus – as Scottish Canals prepare for new lock gates to be installed.
For the first time in more than 40 years the Caledonian Canal basin at Fort Augustus was emptied of water as maintenance works to five pairs of 37-foot gates will see them removed and replaced at the canal.
The £5.35 million maintenance programme is being undertaken by a team of specialists who have emptied the 200 year-old locks at Fort Augustus to replace five sets of gates.
They are undertaking similar works at Kytra Lock and Cullochy Lock.
Peter Robinson, head of engineering at Scottish Canals, said: "The canals have been drained allowing people to have a very unique, once in  a lifetime opportunity to stand on the canal basin.
"This maintenance project will be started this winter and continued next year. We are working on the area known as the middle district which runs from Fort Augustus and its six locks and then we will also work at Kytra Lock and Cullochy Lock.
"The Scottish Governement has funded this work at a cost of £5.35 million and it will involve moving the six sets of lock gates here at Fort Augustus and at those at Kytra and Collochy.
"The gates are 30 foot by 20 foot and we will be replacing them as the normal life for such gates is 25 year, these gates have been here for much longer.
"We want to get the gates in place and then we can get the canal back open and ready for another busy tourist season.
"Along with the Kelpies at Grangemouth and the Falkirk Wheel the canal continues to attract and inspire visitors from all over the world. We are looking at way in which we can keep the gates we are removing on show, to create a better understanding of the lock."
Scottish Canals offered a small number of free tickets for members of the public to learn about the engineering, history and wildlife of the canal giving them a chance to explore the depths of its colossal lock chambers.
There were even some unusual mason's marks on show for visitors.
Caledonian Canal heritage officer, Chris O'Connel explained: "These mason's marks were left here by people who worked on the canal, and are unique to the worker – sometimes the marks were handed down through families who worked on the construction.
"These marks have been noted but depending on the light and the time to record them, they remain a rare thing for anyone to see."
In total, around 5,160 cubic metres of water have been drained from the canal. The replacement gates are due to arrive on site next Thursday.