Output from the Scottish private sector neared stagnation last month, an analysis by the Royal Bank of Scotland (RBS) found.
In the bank's monthly Scottish Business Activity Index, the private sector scored 50.1 in an index which uses a baseline of 50 to indicate complete stagnation from the previous month.
According to the study, production was found to have increased in manufacturing, while activity in the services sector declined for the first time since May last year.
Despite the private sector outlook remaining broadly similar to January, companies' confidence in an uptick in business over the next 12 months rose to 65 – the highest score since June 2018.
Malcolm Buchanan, chairman of the Scotland board at the bank, said: "The Scottish private sector neared stagnation during February, with only a fractional rise signalled by the headline Business Activity Index, as renewed growth in manufacturing was largely offset by a mild reduction in service sector activity.
"Meanwhile, overall new business increased only fractionally, amid reports of weak foreign demand and further uncertainty weighing on growth, while some firms responded to softer demand conditions by not filling vacancies, leading to a fall in workforce numbers for the first time in four months.
"On a positive note, business confidence climbed to a 20-month high, with anecdotal evidence linking optimism to hopes of improved client demand.
"Nonetheless, sentiment in Scotland was the second-lowest across the 12 monitored UK areas, with only Northern Ireland reporting a softer outlook."
Elsewhere in the analysis, employment figures fell to 49.6 in the index, the first reduction for four months, while backlogs at private sector companies also dipped, with the index recording a score of 47.3 – saying anecdotal evidence showed firms using a downturn in demand to divert resources to unfinished work.
The creation of businesses also continued to rise, albeit slightly, with a score of 50.2.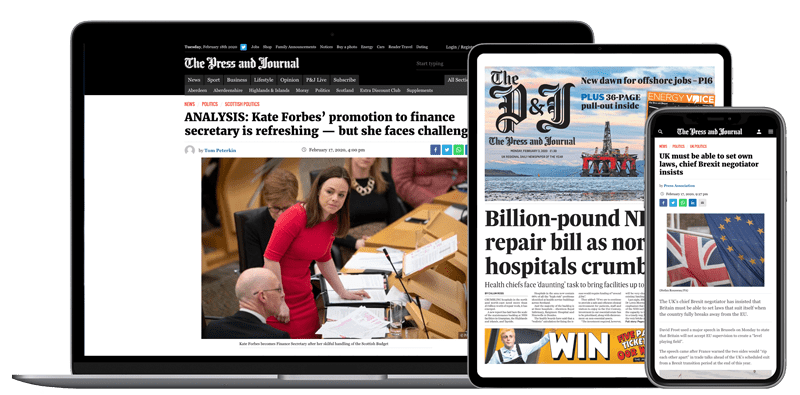 Help support quality local journalism … become a digital subscriber to The Press and Journal
For as little as £5.99 a month you can access all of our content, including Premium articles.
Subscribe