Government intervention may be needed to help revive the housing market after the coronavirus epidemic, according to the Royal Institution of Chartered Surveyors (RICS).
The RICS March 2020 Resident Market Survey shows a downward trend for all areas of the housing market across Scotland post Covid-19.
In March, a net balance of -81% of those surveyed in Scotland reported a fall in buyer demand for homes while new housing sales also declined.
Fewer people have also placed their homes up for sale, with three-quarters of Scottish respondents reporting a sharp decrease in the number of new homes on the market.
The RICS also highlighted that while Scottish surveyors were upbeat about the outlook for the housing market before last month, it is now clear that the current lockdown situation will have a significant impact for the rest of the year.
Commenting on the market, Kieran Bonner, of J&E Shepherd in Stirling, said: "It was actually a very positive March until the Covid-19 crisis hit. A period of lockdown and uncertainty lies ahead."
Thomas Baird, MRICS, Glasgow, Select Surveyors Ltd, added: "The current pandemic has thrown the entire market into freefall. There is little point trying to predict any outcomes until such times as the economy has recovered or at the least stabilised."
Over the next three months, sale and price expectations have turned negative following lockdown measures. Three-month price expectations are expected to drop from +23% to -87%.
March has also seen tenant demand fall, with 40% of those surveyed saying they had seen a reduction in new tenancies.
Fraser Crichton, from Dove Davies in Edinburgh, said he believed the lockdown had impacted lettings hard because of a low demand from students.
He said: "The recent pandemic has resulted in many student tenants giving notice sooner than expected. Many other tenants giving notice and without viewings, occupancy rates will drop and rents will fall."
George P Brewster, from J & E Shepherd also in Edinburgh, agreed, adding: "Where tenants can they have repatriated to their country of origination. Students have returned home to parents. Many tenants now defaulting on rents."
Simon Rubinsohn, RICS Chief Economist, said government help may be needed for the sector following the outbreak
He said: "Of course, the primary focus of government is at this stage the health of the nation and defeating coronavirus and it may be a little premature to be planning for the economic recovery.
"However, the feedback from the survey does imply that further government interventions both in the wider economy and more specifically in the housing market may be necessary to aid this process supporting businesses and people back into work."
Housing Minister Kevin Stewart said: "The overarching priority of the Scottish Government is to protect the health of individuals and to minimise the loss of life caused by the pandemic.
"This has meant no sector of the Scottish economy has gone untouched.
"We have been working closely with housing market stakeholders and have published clear guidance on what to do about home moves and work on construction sites during the Covid pandemic.
"We have highlighted and encouraged take-up of the range of support packages already in place across the UK alongside the Scottish Government's £2.2 billion of support for businesses in Scotland.
"We are also working with representatives of the home-building industry to see what further interventions may be needed to support this important sector through this period and beyond.
"We are committed to supporting the housing market and home-building industry and to achieving the earliest possible restart of housing construction, but only when it is safe to do so."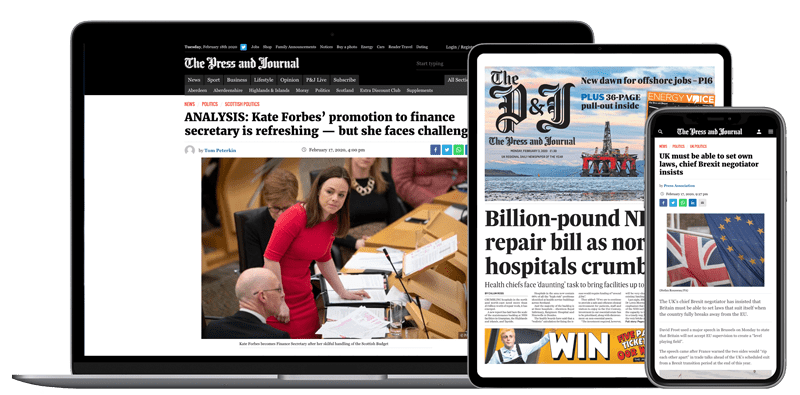 Help support quality local journalism … become a digital subscriber to The Press and Journal
For as little as £5.99 a month you can access all of our content, including Premium articles.
Subscribe