Clean infrastructure projects funded by the Scottish Government could create 150,000 jobs and re-absorb workers who lost employment due to Covid-19, according to the Scottish Trades Union Congress (STUC).
A study by research company Transition Economics showed that a £13 billion stimulus funded by Holyrood would bring massive benefits to the country.
The report said upwards of 50,000 jobs could be created in building retrofit, with another 40,000 in transport and 20,000 in manufacturing and offshore wind infrastructure. The longer-term supply chain benefits in Scotland would be enormous, according to the research.
This comes as the UK Government has announced the paring back of the Job Retention Scheme, with many companies, such as British Airways, Virgin Atlantic, Tui, easyJet and Rolls-Royce, saying it could lead to mass redundancies.
STUC general secretary designate Roz Foyer said: "The need for major infrastructure stimulus becomes more urgent by the day.
"This research we are publishing is drawn from a wider report on the potential for creating green infrastructure jobs which will be published later in the year.
"But given the crisis we face there is no time to be lost. We thank the authors Mika Minio-Paluello and Anna Markova for bringing forward these interim conclusions.
"Their analysis shows that almost 150,000 good quality jobs could be created at the same time as making a real impact on emissions and strengthening Scotland's renewables supply chain."
Concerns were also raised about North Sea oil, after the lockdown led to the price of oil barrels to fall drastically.
Ms Foyer added: "We know that it will still be some time until Scottish industry will emerge from lockdown, so these are the weeks in which we should be planning, and planning big.
"The measures outlined in this report sit along a range of other necessary investments including in key services such as social care.
"Clearly the level of stimulus we are proposing will require inter-governmental co-operation, but now is the time for those discussions to begin in earnest."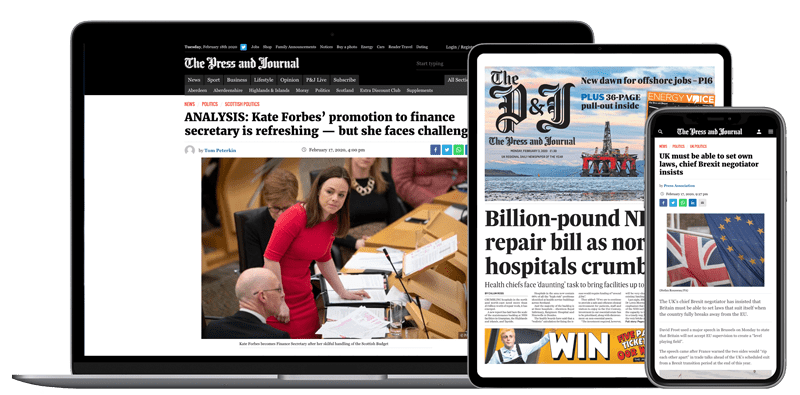 Help support quality local journalism … become a digital subscriber to The Press and Journal
For as little as £5.99 a month you can access all of our content, including Premium articles.
Subscribe