A protest on the border with England should not damage Scotland's reputation as an open and welcoming nation, Nicola Sturgeon has said.
The First Minister made clear she did "not endorse" the demonstration on the A1 on Saturday.
Pro-independence supporters hung a banner saying "Staycation – Keep Scotland Covid-Free" beneath the official Welcome To Scotland sign.
Scottish Conservative leader Jackson Carlaw branded the group – which included a PPE-wearing protester saying they wanted visitors from England to "stay the f*** out", an "absolute disgrace" as he urged Ms Sturgeon to condemn their behaviour.
Mr Carlaw said it is "shameful it took a question from a journalist to force her to take some responsibility for stoking division and fear" after the incident was raised at the First Minister's daily coronavirus briefing.
"I can't stop people waving SNP banners but I can be very clear they don't speak for us," she said.
"I can't be clearer than I have been – the SNP is an open and welcoming party, Scotland is an open and welcoming country and that kind of protest is not something I condone or endorse in any way shape or form."
Her comments came after Justice Secretary Humza Yousaf tweeted about the incident: "If you are a racist you are no friend of mine and no part of the movement I belong to."
He branded the incident "horrible, reprehensible and vile".
Ms Sturgeon said: "I agree with Humza Yousaf's comments about racism.
"The people who protested at the border did not speak for me, they were not there on my behalf and they were not communicating a message that I endorse in any way, in fact I would emphatically say I don't endorse that."
She added: "I don't think it risks our reputation because I think Scotland's reputation as an open, welcoming, internationalist country is long-standing and strong, and I think it can withstand protests of that nature."
The First Minister has refused to rule out introducing border restrictions between Scotland and England if these are needed to help combat the spread of coronavirus.
She noted that prevalence of the virus is about five times lower in Scotland than other parts of the UK and referred to parts of the US and Australia, where border restrictions have been imposed.
Ms Sturgeon said: "I would be negligent in my responsibility if I was to rule out at this stage something that at a later phase I might consider was needed to protect people's health and lives, but it will be driven entirely by public health."
She stressed any such decision would be based on public health requirements not constitutional politics.
The First Minister said: "This is not a question about whether people from England are welcome in Scotland, of course they are, just as people from Scotland are hopefully welcome in England.
"It is about public health … and I will take decisions based on protecting the people of Scotland if there is a risk to public health.
"That is not political, it is not constitutional, it is certainly not based on any desire to keep English people out of Scotland.
"Even my sternest critics could look at my record in politics and know that is not who I am and it is not what my party is about."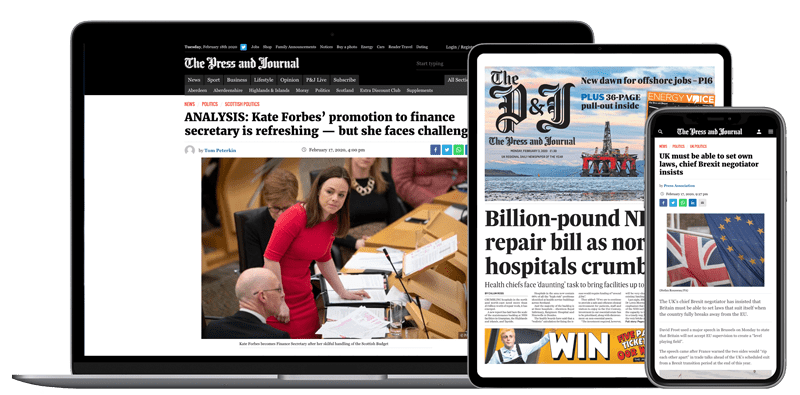 Help support quality local journalism … become a digital subscriber to The Press and Journal
For as little as £5.99 a month you can access all of our content, including Premium articles.
Subscribe