The Care Inspectorate has moved to cancel the registration of a care home in Callander after improvements in infection control and cleanliness failed to take place.
The care home watchdog says it has "significant concerns" about Ashwood House, in the Stirling Council area, which looks after up to 21 elderly residents.
At a visit on July 30, inspectors found the home had made only minimal progress towards improvements demanded after a previous inspection.
Ashwood House is operated by Mauricare Homes, which has 14 days to appeal the decision to cancel its registration.
If an appeal is not successful, the home will have to be shut down or taken over by another operator.
The home's management were served with an improvement notice on July 16, saying they must "ensure that service users experience a safe, clean and well-maintained environment".
This included ensuring that "effective arrangements are in place to prevent and control the spread of infection".
A spokesman for the care home watchdog said: "The Care Inspectorate visited Ashwood House care home in Callander on July 30 to check on progress made after an earlier inspection raised concerns about the quality of care experienced by residents.
"On our latest visit we found minimal progress on areas that must improve and we continue to have significant concerns about the wellbeing of residents.
"Our first priority is always the health, safety and wellbeing of residents and because of our continued concerns we have decided to cancel the service's registration under Section 64(1) of the Public Services Reform (Scotland) Act, 2010.
"We understand this is a difficult and distressing time for residents, their loved ones and staff at the home.
"We are working closely with partners including the local health and social care partnership to ensure that residents experience appropriate care."
The home's operators said they had been free from Covid-19 and were committed to making the improvements required.
A spokesman for Mauricare Homes said: "We are taking legal advice and will be making representation in line with due process in time.
"We recognise the findings, our staff and management continue to work very hard to ensure safety and wellbeing of our residents. It is worth noting that Ashwood House has been free of Covid-19.
"We are thankful to all relevant authorities concerned, especially Stirling Council for ongoing support.
"We remain committed to see the improvements required and maintained. Our residents' welfare continues to be our priority."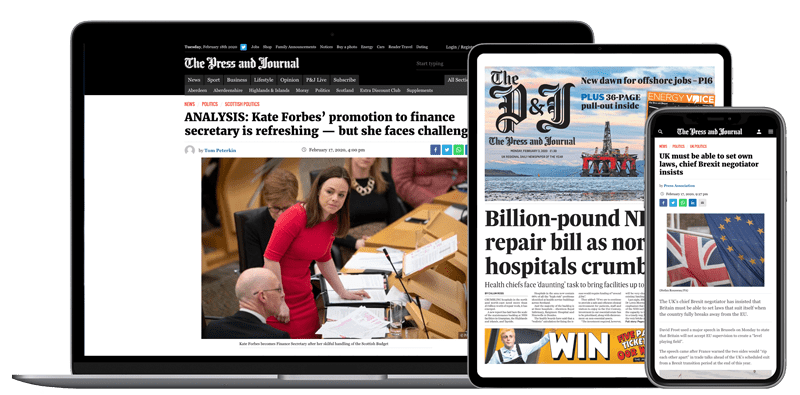 Help support quality local journalism … become a digital subscriber to The Press and Journal
For as little as £5.99 a month you can access all of our content, including Premium articles.
Subscribe