There has been an "abject failure" over PPE provision and guidance for police, the body that represents rank and file officers has claimed.
The Scottish Police Federation (SPF) has described some of the guidelines around PPE as "laughable".
In a letter to the Scottish Parliament's Justice Committee, general secretary Callum Steele said Police Scotland expects its officers to use "mythical powers" to determine someone's Covid-19 status.
He also said guidelines from the Health and Safety Executive (HSE) and Health Protection Scotland (HPS) fail to deal with the reality officers face.
Discussing officers who were sent out to deal with house parties, Mr Steele said: "It is simply unacceptable that the PSoS (Police Service of Scotland) considers that passing the decision on the PPE for each separate house party should be one for individual police officers based on some nebulous judgment.
"This is an abject failure but for as long as the HSE, HPS and PSoS continue to rely on each other in support of this ineptitude, police officers will continue to be exposed to risk of exposure to, and transmitting of, the Covid-19 virus.
"As the infection rates accelerate across the country this position is even more indefensible."
His letter added: "It is widely reported that over the weekend of August 29, the PSoS attended over 300 house parties.
"From our engagement with members and despite access to 'full PPE' – which essentially means the inclusion of FFP3 masks – we have failed to identify a single occasion where the FFP3 masks were worn by attending officers.
"Indeed, it appears that use of the surgical mask was also limited to non-existent."
Mr Steele criticised HPS guidance, which suggests officers should wear items including a face visor or goggles in "fighting/restraint scenarios".
He said officers would not have time to put on all the recommended PPE and do not carry it with them routinely.
Mr Steele said: "The entire recommendation would be laughable were it not so serious."
Responding to the letter, Scottish Liberal Democrat justice spokesman Liam McArthur said: "To do their job, officers need to be confident that their safety won't be a secondary consideration for Police Scotland or ministers.
"They certainly should not be put in harm's way for lack of having the right kit."
Assistant chief constable Gary Ritchie said the safety of staff is a "priority" and officers have PPE with them at all times.
He said: "Almost 100% of officers working in local policing are equipped with masks and we take into account the provision of PPE when we deploy officers to incidents.
"Clear operational guidance is available and communicated regularly to officers on what PPE to use in specific situations.
"Our guidance is based on an extensive and detailed risk assessment developed by a dedicated health and safety group, which included members of the SPF and after taking into consideration advice from HSE and HPS.
"Our risk assessments and guidance are also under continual review."
A Scottish Government spokesman said: "We are incredibly grateful for the hard work of the police through the pandemic and the professionalism they have shown balancing protecting people in unprecedented circumstances and enforcing restrictions.
"It is crucial that officers and staff have access to the appropriate PPE, and Police Scotland's Health and Safety team has worked closely with Health Protection Scotland to provide this.
"More than 15,000 officers and staff have been issued with an FFP3 mask and other items of PPE and have been trained in their correct use to ensure the best level of protection possible, and we have been assured that a robust supply chain is in place.
"We have delivered real terms protection of Police Scotland's revenue budget during this Parliament, and have surpassed our commitment to deliver a £100 million boost by 2021.
"The policing budget was increased by £60 million in 2020-21. We continue to work closely with Police Scotland and the Scottish Police Authority to understand the impact of Covid-19 on their budget, with the position changing over time.
"There will be additional costs, such as for PPE, but there will also be areas which have been paused or slowed down due to Covid-19, which may lead to savings."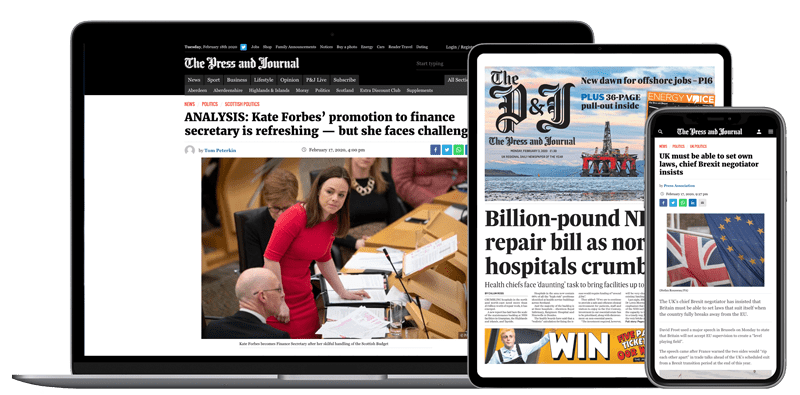 Help support quality local journalism … become a digital subscriber to The Press and Journal
For as little as £5.99 a month you can access all of our content, including Premium articles.
Subscribe