The Scottish economy contracted 19.4% in the second quarter of the year, the latest figures show.
GDP figures for April to June were released on Wednesday, highlighting the impact of the coronavirus lockdown.
The UK economy shrank by 20.4% over the same period.
The "first estimate" figures from the Scottish Government measure changes in the onshore economy.
All industries contracted in the second quarter of the year, with construction showing the largest fall at 41.5%.
The distribution, hotels and catering sector had the next largest fall at 33.9%.
Scottish GDP in the first quarter of the year shrank by 2.5%.
Economy Secretary Fiona Hyslop said the figures show the "extremely serious" impact of Covid-19.
She said: "We have worked hard to protect Scotland's economy and ensure that as many people as possible keep their jobs, and this is backed by a package of support to businesses that totals over £2.3 billion.
"Our Programme for Government, published this month, sets out plans for a stronger, more resilient and sustainable economy – with a laser focus on creating new, good, green jobs.
"As part of that, our £60 million youth guarantee will ensure every young person has access to a job, education or training and we have also announced plans to increase support for older workers to re-skill in growth areas, such as low carbon industries."
Ms Hyslop reiterated the Scottish Government's calls for the job furlough scheme to be extended.
She said: "It is now essential that the Scottish Parliament is granted the additional powers it needs to properly manage the response to the crisis as we move towards recovery.
"It is also the case that the last thing our businesses need is further economic turmoil as a result of a no-deal Brexit.
"That is why we have repeated our calls for the UK Government to agree an extension to the transition period."
Responding to the GDP figures, Scottish Secretary Alister Jack said: "The UK Government was quick to put measures in place to shield people from the worst of the pandemic.
"More than 930,000 jobs in Scotland have been supported through the furlough and self-employment schemes, £2.3 billion loaned to Scottish businesses and £6.5 billion additional funding given to the Scottish Government.
"As the economy reopened in July, the UK Government has provided targeted support where it is needed the most with VAT cut for tourism, the hugely successful Eat Out to Help Out scheme for hospitality and comprehensive Plan for Jobs to create new opportunities right across the country."
"We are also doing everything we can to build back better our economy, including protecting the vital UK internal market which accounts for more than 60% of Scottish exports."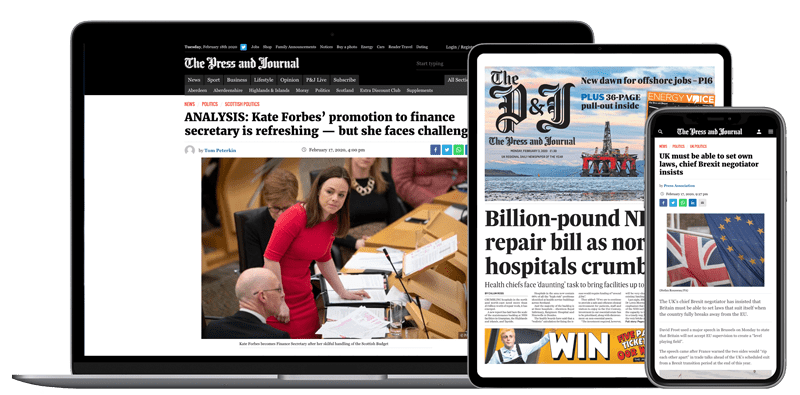 Help support quality local journalism … become a digital subscriber to The Press and Journal
For as little as £5.99 a month you can access all of our content, including Premium articles.
Subscribe