Police Scotland responded to "at least" 300 house parties on the first weekend of tighter restrictions across the country, according to figures from the force.
Officers issued at least 101 fixed penalty notices, made 14 arrests and forced entry on three occasions while responding to complaints of such events taking place.
It comes after measures were introduced banning people from visiting other households in all parts of Scotland as part of efforts to limit the spread of Covid-19.
Students were also asked by university bosses to not socialise or visit pubs and restaurants over the weekend.
At the Scottish Government coronavirus briefing on Friday, Chief Constable Iain Livingstone highlighted analysis suggesting around one in 10 house parties police had been responding to were linked to students.
Further analysis of this weekend's figures – covering from midnight on Friday to 11.59pm on Sunday – indicates house parties are being held across all age groups.
Responding to the figures on Monday, Mr Livingstone said: "Highly restrictive measures on our lives, freedoms and daily routines are in place as collectively we respond to this public health emergency.
"Policing is here to support people and to help everyone to do the right thing, to prevent the spread of the virus.
"Officers will use good sense and exercise the discretion that is integral to the office of constable, to work with citizens to support the implementation of these new rules.
"The experience of the last six months is that the great majority of people are taking personal responsibility to do the right thing because they know that at this time physical distancing is the significant intervention that can be made to save lives.
"I am grateful for the support and co-operation of the public and the licensed trade which continued over the weekend.
"I also want to again underline my admiration and compassion for young people and students who have responded so well to the pandemic at this crucial time of their lives."
First Minister Nicola Sturgeon echoed Mr Livingstone's sentiments and thanked the majority of Scots who had complied with the rules for doing so.
At Monday's briefing she said: "These figures have to be seen in the context of a population of 5.4 million people, so let's first of all put it in perspective, the vast majority of people in Scotland in my experience… are abiding by the rules and they have my deep appreciation for that.
"Anybody who is not, and particularly anybody who is flagrantly breaching very clear rules against house parties should really take a look at themselves, because we know house parties are one of the risk factors that cause this virus to spread.
"House gatherings perhaps is a better description because I think when you say house party people think of events with dozens of people there – this could be a smaller number of people with different households mixing.
"It is not the case that all of these 300 house parties, or anything like it, were students. These were incidents that the police were called to that span the age spectrum and everything.
"Don't any of us think this is all a problem of students, this about all of our responsibilities. So please abide by the rules and for people who don't the police will take action."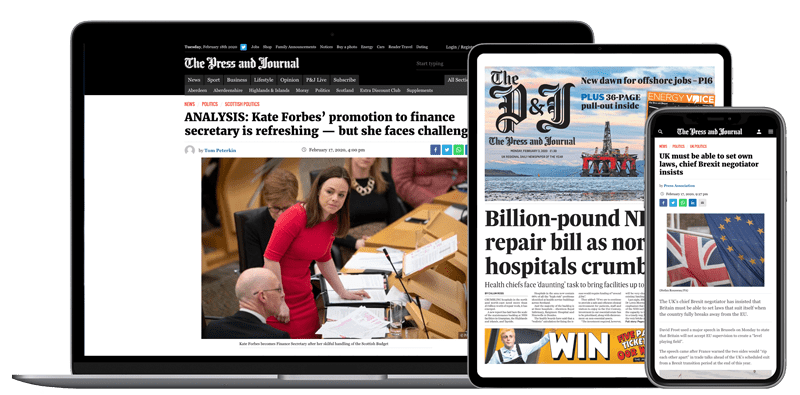 Help support quality local journalism … become a digital subscriber to The Press and Journal
For as little as £5.99 a month you can access all of our content, including Premium articles.
Subscribe