Freedom-of-speech protections in the controversial new hate crime Bill are "under active consideration", the Justice Secretary has said.
The Hate Crime and Public Order (Scotland) Bill has been condemned by some groups who claim it hits free speech.
The legislation, currently in stage one in the Scottish Parliament, will introduce a stirring-up of hatred offence for a number of characteristics, including disability, sexual orientation and age.
Humza Yousaf has already said the Scottish Government will propose an amendment at stage two of the Bill that would mean any offender would have to intend to stir up hatred, after a backlash from free speech groups.
The Justice Secretary has now said the Scottish Government is willing to look again at protections of free speech in the legislation.
Speaking during an evidence session before the Justice Committee on Tuesday, Mr Yousaf said he would be open to expanding protections of freedom of speech to cover all of the protected characteristics in the Bill – as only statements made against people on the grounds of their religion or sexual orientation are currently covered.
He also said he would consider broadening protections to acts that express "antipathy, dislike, ridicule or insults".
The Justice Secretary said: "I'm very actively considering both the breadth and the depth of freedom-of-expression clauses.
"We have to be aware of some of the concerns that may be expressed if we were to have a generic freedom-of-expression clause, would that be specific enough to give people the reassurances that they desire?
"We're looking at all those issues in the round, I would anticipate some further change around the freedom-of-expression clause probably coming at stage two, be it from members or possibly from the government, but it is an area under active consideration."
Later in the session, a top lawyer – whose review of hate crime legislation spawned the Bill – said the changes would mirror recommendations made in his 2018 report.
Lord Bracadale QC told the committee: "I think that would be an expression in the Bill of the kind of line that we want to identify between offensive behaviour on one side and threatening and abusive behaviour with whatever other threshold there is."
When asked by committee convener Adam Tomkins if he stands by his recommendations for protections of expression, Lord Bracadale said he did.
He also said there was "quite a bit of misunderstanding" in some criticism of the Bill, adding that it should not legislate for "behaviour that is offensive".
Mr Yousaf rejected claims that the Scottish Government left the Scottish Courts and Tribunals Service (SCTS) "in the dark" over the contents of the Bill.
A letter from the SCTS in June suggests they were only made aware of the final Bill and attached financial memorandum when it was published.
Mr Yousaf said: "I would slightly disagree with the premise that there hasn't been consultation with the SCTS, there was a fair degree of consultation and they would have seen the intention that we had around the Bill well in advance of us even necessarily drafting legislation.
"Although they may not have seen the absolute final product … and it would be right that we introduced that to parliament and parliament would see that first, they would have been very well aware about what the Bill was proposing to do."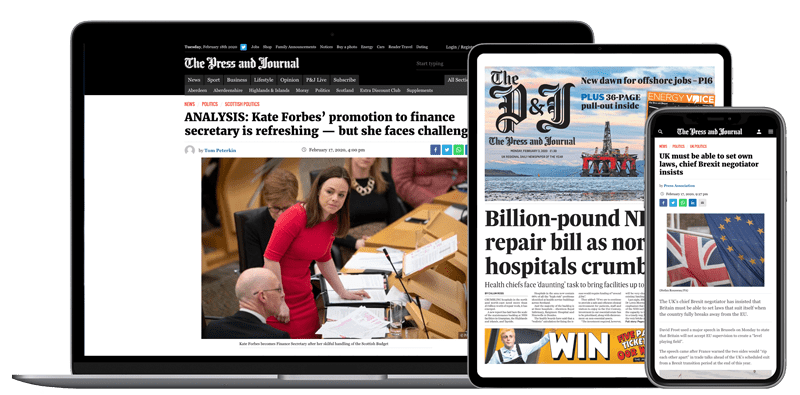 Help support quality local journalism … become a digital subscriber to The Press and Journal
For as little as £5.99 a month you can access all of our content, including Premium articles.
Subscribe