A new plan for inward investment announced by the Scottish Government is hoped to create 100,000 jobs in the next decade.
Announced by trade minister Ivan McKee in Holyrood on Tuesday, Scotland's Inward Investment Plan has the potential to increase GDP by £4.2 billion annually, the Scottish Government said.
Identifying nine key areas of progress, the report aims to attract investment from businesses which share Scotland's "core values", namely "fair work and a net zero, technologically-driven, high value wellbeing economy".
Mr McKee said: "We now want to provide a more strategic approach where we will focus on the sectors where Scotland has genuine global strengths, confidently set out our stall to those whose values align with ours, work cohesively across Scotland's regions to attract inward investment that builds on our many local strengths and be laser-focused on maximising wider economic and social benefits for local economies and communities.
"Scotland's strong position as a progressive, inclusive and outward-looking country will be central to our partnership offer to investors – we want to attract companies, entrepreneurs, businesses and workforces who share our values and can help us progress our economic ambitions."
The nine key areas identified by the Scottish Government are: energy transition, decarbonisation of transport, food and drink innovation, software and IT, digital financial services, digital business services, space, health technology and the transformation of chemical industries.
The Scottish Government also outlined 18 actions that would be taken to meet the goals of the plan, including increasing the number of people in Scotland trained in "advanced digital skills" from 4,000 per year to 10,000.
The soon-to-open Scottish National Investment Bank (SNIB), the plan said, will be aligned to support incoming companies to grow, along with allocating £20 million annually to "focus resource on more strategic investments that shape places and deliver high value jobs".
Tory MSP Maurice Golden welcomed the plan but said he was "sceptical" of the promises made by the Scottish Government, including to improve digital skills and the number of jobs to be created.
The minister said that Scotland had the best record for attracting inward investment outside of London in the last seven years.
He added: "Scotland has a very proud record of attracting inward investment.
"What this plan does is focus that on sectors where we do have genuine global strengths, and Scotland has many of those.
"The plans in here are based on analysis, they're achievable, they're deliverable and this government is committed to delivering what needs to be done to make that growth happen for Scotland's economy."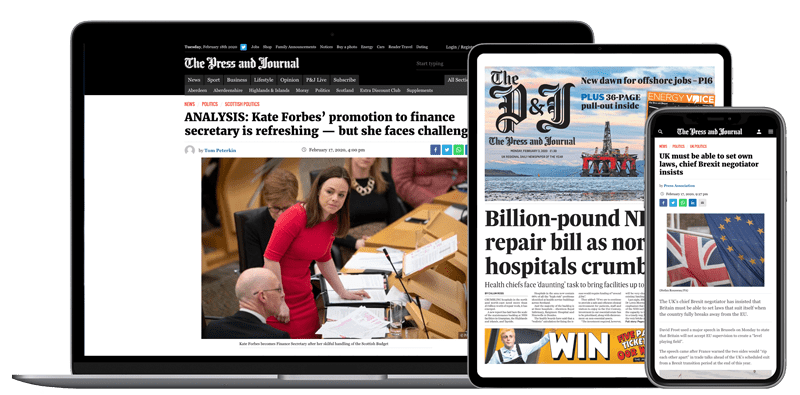 Help support quality local journalism … become a digital subscriber to The Press and Journal
For as little as £5.99 a month you can access all of our content, including Premium articles.
Subscribe