Nicola Sturgeon has assured frontline healthcare workers their safety is the "highest priority" amid problems distributing protective clothing and equipment.
The First Minister acknowledged that "distribution will be a continuous challenge" in getting personal protective equipment (PPE) for doctors, nurses and social care workers across Scotland.
However, Ms Sturgeon stressed that the issue of getting PPE to the frontline staff is "something we attach the highest priority to" and the government was working to improve the ordering system.
Health Secretary Jeane Freeman told the media briefing in Edinburgh that Scotland has adequate supplies of PPE, but the challenge was sending the right amount to the right places.
Asked about the availability of PPE, Ms Sturgeon said: "This is an issue to which we attach the highest priority. Protecting frontline health workers; there are few issues more important to us.
"There are challenges here. There will at times be challenges of supply, distribution will be a continuous challenge.
"We are adding logistical support so we can streamline and make this as quick and as bureaucracy-free for those working and caring for patients on the front line.
"But I don't want any healthcare worker out there to be under any other impression than this is something we attach the highest priority to."
Ms Freeman said the government needed to hear from health services what supplies they need and that they would be "streamlining" the ordering and distribution processes to get medical supplies to where they are needed.
"In terms of the availability of the supplies, the supply chain is working well and we currently have no shortages of particular supplies like the masks, aprons, gloves and so on," she said.
Appealing for any doctors, nurses or healthcare workers to contact her if they have problems with accessing protective equipment, Ms Freeman added: "My door and my phone remain open for them at any point to raise those issues directly with me."
"We have always said there are distribution issues in some parts of the country – so that's not news – but that we are working consistently to try and identify exactly what the difficulties are and overcome them."
Dr Lewis Morrison, chair of BMA Scotland, welcomed the reassurance from MS Sturgeon and said that were concerned about the availability of the correct-standard PPE, and how long supplies will last.
Dr Morrison said: "The First Minister was right to say at her news conference that there are few more important issues at the moment than PPE for front line staff.
"We need the right PPE, and in sufficient supplies, to be able to do our job as safely as possible – at a time when we are facing huge and serious challenges.
"Both the Cabinet Secretary and First Minister have been clear they understand this challenge, and are working on it. However, the urgency of this cannot be overstated.
"Healthcare teams are caring for people with Covid-19 right now, and the number of cases is growing rapidly.
"We cannot be in a position where doctors are having to flag shortages or order supplies themselves – we must have a system in place to ensure the right PPE is always available and ready to be used, today, tomorrow and for the foreseeable future. "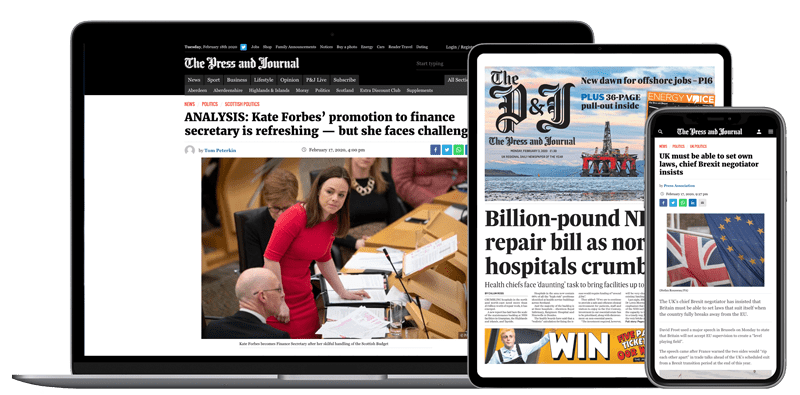 Help support quality local journalism … become a digital subscriber to The Press and Journal
For as little as £5.99 a month you can access all of our content, including Premium articles.
Subscribe