Experts are working to allow care home residents to have more visitors but cannot make changes currently due to safety concerns, Scotland's chief nursing officer has said.
Since July 3, care home residents in Scotland have been permitted to meet one visitor outside.
Chief nursing officer Fiona McQueen said work is under way to move towards allowing indoor visiting by one person and outdoor visiting for three people, and to help make life feel more normal for care home residents.
She said current guidance will remain in place to keep residents as safe as possible.
Ms McQueen said: "We are working with Scottish Care and with the care home sector themselves, along with other professional advisory bodies, clinicians and others, to make sure we then take the next step of supporting indoor visiting by one person but also outdoor visiting by more than one by having three outdoor visitors for residents and I know that that is longed for within the care home sector.
"We are working hard to do that but at the moment what we are saying is that we want time to make sure that our care home residents are safe and therefore are continuing with our current visiting arrangements which is one outdoor visitor per care home resident.
"As soon as we can, and we are actively working on looking at when we can change the arrangements for visiting, we will do that because we know how important it is to care home residents and their loved ones and we also know that care homes are people's homes."
She added: "But first and foremost we also know how vulnerable care home residents are to Covid and therefore their safety is at the forefront of the guidance we have given to make sure that we keep them as safe as we possibly can.
"In the coming days and weeks we will be actively looking at how we can remove some of the restrictions to make life more normal for people within the care home sector but at the moment we're sticking with our current guidance to make sure our care home residents are safe."
Since the start of the outbreak, there have been 6,841 cases of suspected Covid-19 in 697 (65%) adult care homes in Scotland.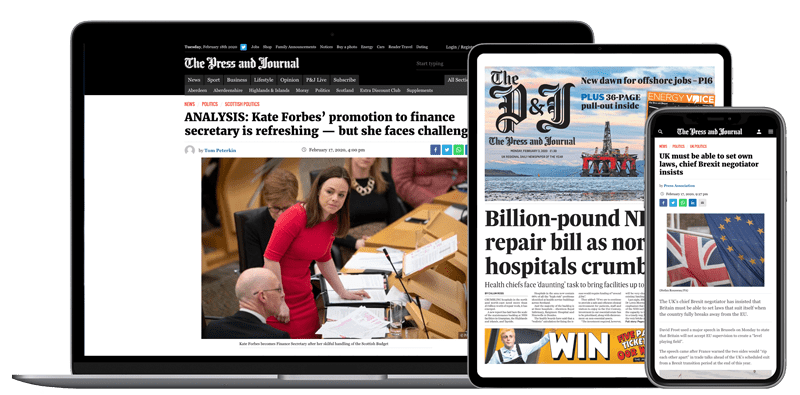 Help support quality local journalism … become a digital subscriber to The Press and Journal
For as little as £5.99 a month you can access all of our content, including Premium articles.
Subscribe