Scottish firms see more potential benefits from Covid-19 than Brexit, according to a new survey.
The research, carried out by Business Gateway, found that while the pandemic is a concern for 78% of small-to-medium enterprises (SMEs), 52% anticipate some positive changes.
Only 38% of those surveyed said they expect positive outcomes to come from Brexit.
Steven Heddle, chairman of the Business Gateway Board, said: "Market conditions for Scottish businesses have never been more difficult.
"Many are still attempting to shore up resilience and survive the pandemic, while also preparing for significant trade disruptions following Brexit.
"These findings underpin the critical role that support services must play in ensuring that businesses feel prepared and confident in their ability to survive this uncertain period.
"I would urge all owners and entrepreneurs to use the Business Gateway service to help identify strategies so that they can overcome future challenges."
Respondents were more likely to cite positive impacts because of Covid-19.
More than half – 56% – expect to streamline their working practices more efficiently.
Some 53% also said they were feeling being better prepared in the case of a potential future pandemic.
There were still concerns relating to the outbreak, with 64% worried about surviving a second wave.
Employee mental health was a key concern for 61% of businesses, while 58% said that ensuring staff wellbeing during the pandemic has been a challenge.
Almost two-fifths of SMEs agreed Brexit will mean significant changes to their working practices, while 35% feel well prepared for when Britain exits the EU.
A third anticipate they will have to restructure their business in response to the changes.
The survey took answers from more than 350 SMEs across Scotland.
Fieldwork was conducted online by 3Gem, between August 19 and 27.
Meanwhile, the latest Royal Bank of Scotland PMI survey found the Scottish private sector returned to growth during August.
Business activity rose at the quickest pace for more than six years amid the fastest uptick in new work since late 2018.
The seasonally adjusted headline Royal Bank of Scotland Business Activity Index, a measure of combined manufacturing and service sector output, rose from 49.3 in July, to 55.8 in August.
It signals the first increase in Scottish private sector output since February.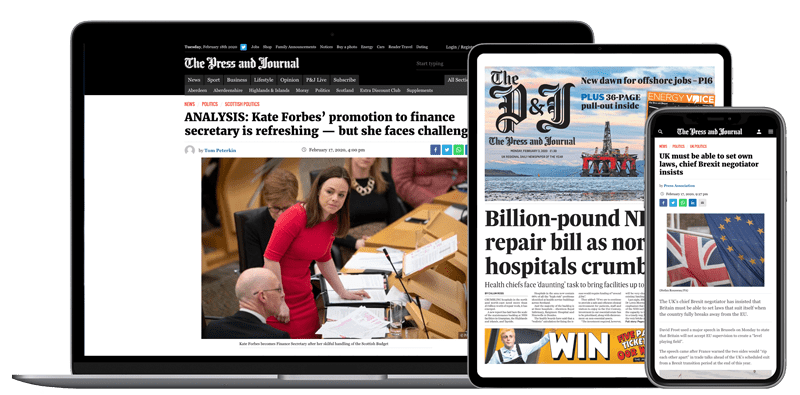 Help support quality local journalism … become a digital subscriber to The Press and Journal
For as little as £5.99 a month you can access all of our content, including Premium articles.
Subscribe