Non-essential spending in September grew 7% year on year, according to a report by the Bank of Scotland.
The Spending Power Report showed that this increase was the largest in any single month since July 2019, eclipsing the 3% rise seen in August after Covid-19 lockdown restrictions were eased.
Restaurants saw a spending increase of 14% in September, the biggest since March. Spending was higher last month than in August, despite the Eat Out To Help Out scheme.
Department chains also saw an increase of 33% in year-on-year spending once coronavirus restrictions were lifted, while home stores and electrical stores also saw a sharp rise of 43% and 42% compared with their 2019 figures.
However, due to restrictions on travel, there was a significant reduction in spending on holidays.
Compared with September 2019, travel saw a 62% reduction in spend.
Gabby Collins, head of payments for the Bank of Scotland, said: "Scotland's September spending followed much of the same pattern as August, with both essential and non-essential spending above 2019 levels, boosted by strong performances across the high street.
"As Scotland adapts to the new levels of restrictions across regions, including the closure of pubs and restaurants in central Scotland, we'll be able to see the impact it has on consumer spending.
"While the majority of retail stores remain open, it's unclear whether consumers will continue to spend at the same levels."
Essential spend on food and drink continued to rise significantly above last year, with a 25% increase.
As the Government moved back to encouraging people to work from home, commuter spending was down in September by 51% year on year.
However, fuel spend is now only 10% less than a year ago, having been as much as 60% down, in April 2020.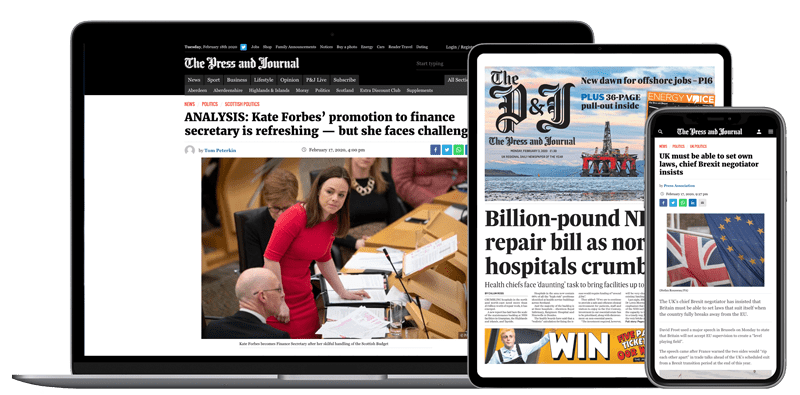 Help support quality local journalism … become a digital subscriber to The Press and Journal
For as little as £5.99 a month you can access all of our content, including Premium articles.
Subscribe