Widespread flooding is expected in parts of Scotland as the country faces a period of "relentless" rain during the weekend.
Flood warnings have been issued for a number of areas across Scotland amid rain which started on Saturday and is expected to continue into Sunday.
The Met Office has issued an amber weather warning for a large part of central Scotland, while a yellow weather warning covers most of the country.
Parts of northern England are also expected to see heavy rain, but in contrast southern areas will have dry weather with temperatures as high as 25C.
Travel disruption is also expected, with ScotRail cancelling trains on a number of lines and the LNER line no longer going north of Newcastle.
ScotRail said there would not be replacement buses for the routes, including those between Perth and Inverness.
On Saturday morning, Vincent Fitzsimmons, of the Scottish Environmental Protection Agency (Sepa), said the impact of the rain was already beginning to be felt.
He told the BBC's Good Morning Scotland programme: "We are expecting widespread flooding through today, Saturday and into Sunday morning."
He added: "It's very heavy rain, but it will be relentless for a particularly long period of time.
"This is not just a normal wet autumn day. We are concerned about the possibility of significant flooding.
"There is that amber area, it goes from the western half of the central belt through up into the Highlands.
"There are communities there where we have quite significant concerns."
He advised people in areas such as Aberfoyle and Aviemore to check for updates and advice on Sepa's website.
Network Rail posted an image of Bowling railway station in West Dunbartonshire on Twitter on Saturday morning, showing the lines flooded with water.
It said: "This is Bowling, between Dalmuir and Helensburgh/Balloch where we took the proactive decision to close the line, given the extreme rainfall we're seeing in this area today."
The Scottish Government's resilience room officials met on Friday to discuss the weather event.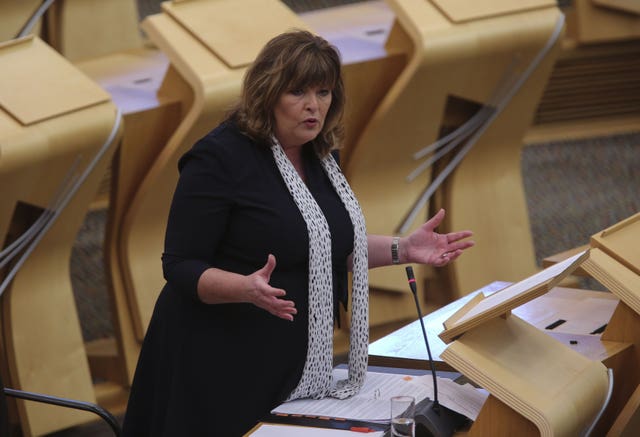 Transport Minister Fiona Hyslop said: "It's important people plan their journeys before they set off.
"Motorists should make sure their routes are available, follow the travel advice from Police Scotland and drive in accordance with the conditions.
"If you are planning to travel by train, ferry or plane, please check with your operators to see if the conditions are having any impact on your services."