Areas of Scotland battered by Storm Babet had their wettest October on record, according to the Met Office, and there are warnings that the UK could face more heavy rainfall as a result of climate change.
Angus, Dundee, Fife and Kincardineshire were among a number of areas that recorded the wettest October since records began, in a series which goes back to 1836.
Storm Babet in the middle of the month claimed the lives of three people in Scotland.
Eastern Scotland broke its record for rainfall in October, with 235.9mm recorded – 82% more than average, according to a blog published by the Met Office.
Some parts of Scotland have already had more than their average rainfall for the whole autumn season with a month to go.
Forecasters warn autumn rainfall figures could increase substantially as Storm Ciaran sweeps in this week.
There were "significant and very severe flood impacts" in eastern Scotland during Storm Babet, with two red rain warnings issued by the Met Office, the forecaster said.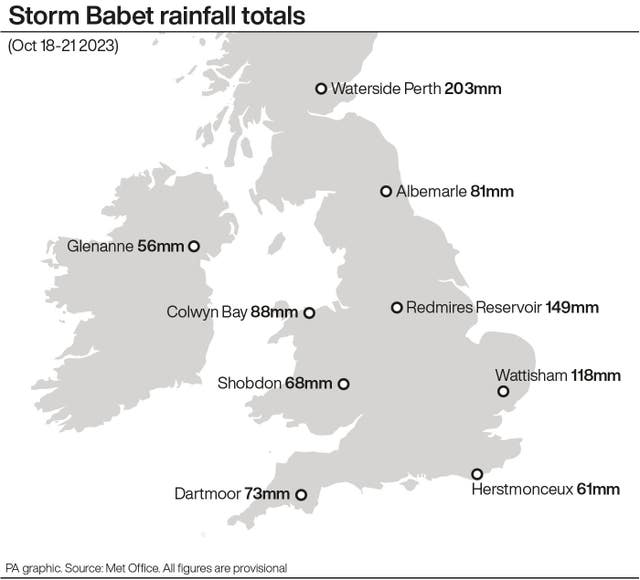 Scotland saw most rainfall in October from Atlantic fronts, with October 6 and 7 the wettest two-day period on record for Scotland in a series from 1891, while England and Wales saw a significant warm, dry and sunny spell with temperatures widely in the low 20Cs.
Met Office senior scientist Michael Kendon said the "frequent unusual south-easterly flow" in eastern Scotland has "particularly contributed" to the wet month in the area, which is usually one of the driest parts of the UK.
Mr Kendon added: "Despite some warmth in the south early on, October 2023 overall goes down as a wet month for much of the UK, with some areas seeing record-breaking levels of rainfall.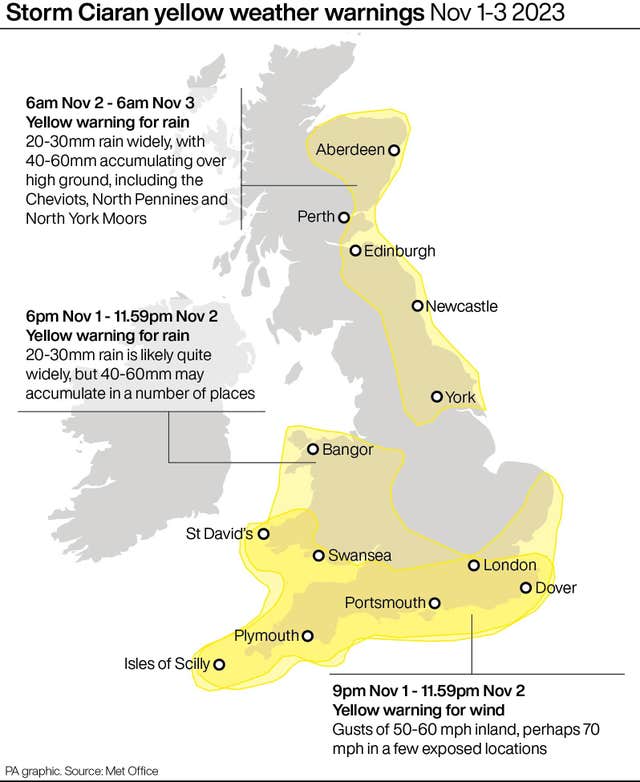 "From mid-month, a blocking high set up over Scandinavia has tended to prevent low pressure systems from clearing the UK to the east.
"Interestingly, areas to the west, where you'd typically see more rain at this time of year, have been sheltered by the mountains from the worst of the weather, with generally below average rainfall during the month. This has helped prevent national figures from threatening any records."
The Met Office said that as the atmosphere warms as a result of climate change, it can retain more moisture at a rate of around 7% for every degree of warming.
The pattern explains how many regions in the world show an increase in the amount of rain experienced and that the UK will likely see more days with rainfall totals over 50mm, but particularly in the west.