A union has reported a 31% increase in the number of violent incidents in Scotland's public sector over the last year, but fears the picture could be "incomplete" after the country's largest health board failed to respond to a freedom of information (FOI) request.
Unison released its annual report on violent incidents at work in sectors it represents on Friday, which showed an increase of "at least" 31% on last year.
But the union says figures are an "incomplete" picture after Scotland's largest health board, NHS Greater Glasgow and Clyde, failed to respond to a freedom of information request from Unison, asking for details about violence suffered by members of staff.
The union made the request in May.
NHS Greater Glasgow and Clyde employs around 43,500 people and is one of Scotland's largest public sector employers.
Unison also said NHS Forth Valley took six months to respond to a freedom of information request.
Figures collated by the union for the report showed a total of 54,684 violent incidents taking place against public service staff in the year to March 31, 2023.
An additional 12,931 violent incidents were reported since last year and almost two thirds of the total in 2022-23 involved violence against local authority staff.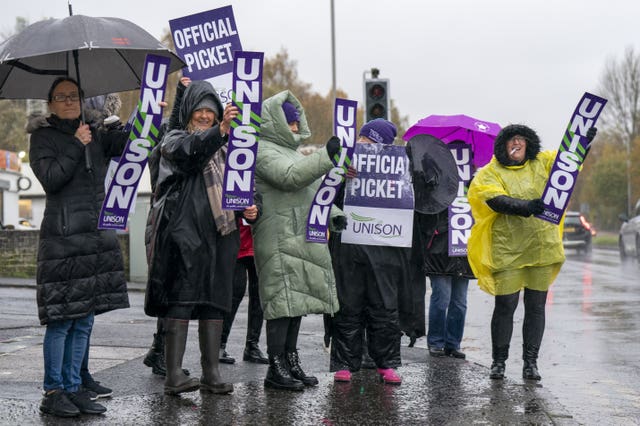 Most violent incidents against local authority staff, both verbal and physical, took place in education settings.
In 2022-2023, schools and nurseries together accounted for between 80-98% of all violent incidents reported by councils.
Freedom of information requests were sent to all local authorities and health boards in Scotland, as well as to employers in other public sector areas in which Unison organises which are subject to the Freedom of Information legislation.
A Unison official told the PA news agency the delays in responding to freedom of information requests was indicative of a "trend of reducing transparency" in Scottish public life.
He added: "This is, we believe, the only survey of its kind done in Scotland – and while we still have a lot of good local detail, the failure of these major organisations to meet their obligations means that we can't get a proper picture of what is happening in Scotland in general and the NHS in particular.
"It's disgraceful that a major organisation is ignoring its responsibilities – but more worrying, when violence at work is clearly such a big problem, that incidents aren't being routinely monitored."
The official said they were not aware of any issues in the past with delays in receiving responses to freedom of information requests.
Scott Donohoe, chair of Unison Scotland's health and safety committee, said: "We need action to tackle the violence and aggression at work – it really isn't 'part of the job'. We now need action by employers and stronger legislation, regulation and oversight by government.
"The failure by some major employers to respond to our request is more than a breach of the law – it is an indication that employers do not hold or gather information about assaults on their staff. This isn't acceptable and we will take this further."
A spokesperson for NHS Forth Valley said: "There has been a significant increase in the number and complexity of FOI requests received over the last year and unfortunately this has impacted on our local response times.
"Work is under way to address this, and we continue to do everything we can to respond to FOI requests as quickly as possible."
A Scottish Government spokesperson said: "All workers, including public sector workers, deserve protection from abuse and violence.
"The courts have extensive powers to deal robustly with assaults – with sentences all the way up to life imprisonment available.
"There are specific legal protections for health staff that can be used under Emergency Workers legislation.
"The Education Secretary has also chaired two stages of a behaviour and relationships in schools summit to ensure that our classrooms are safe for pupils, teachers and support staff. The third stage of this summit will take place later this month."
NHS Greater Glasgow and Clyde did not respond to the PA news agency's request for comment.