Train passengers are being shown how to recognise sexual harassment and intervene without putting themselves in harm's way through an "immersive" virtual reality experience.
As part of work by the rail industry and British Transport Police to ensure passengers feel safe, the VR tool will be available at Edinburgh Waverley station on Thursday.
It has been designed to empower bystanders to recognise and help combat sexual harassment on the railway and will demonstrate how small actions such as offering to swap seats or distracting the perpetrator with a question, could make a big difference.
The Rail Delivery Group said its research found 85% of women said they would feel relieved if someone intervened when experiencing sexual harassment on public transport.
People in Edinburgh have been invited to try the immersive VR experience at their local station.
Jacqueline Starr, chief executive of Rail Delivery Group, said: "As an industry we are actively tackling all forms of sexual harassment and are committed to making our passengers feel safe when on board.
"By showcasing the ground-breaking VR experience in stations across the country, we're equipping people with tips on how to safely intervene in situations as a bystander without putting themselves in harm's way.
"Whether you see it or experience it, we ask everyone to report anything that makes you uncomfortable to British Transport Police by texting 61016 or using the Railway Guardian app.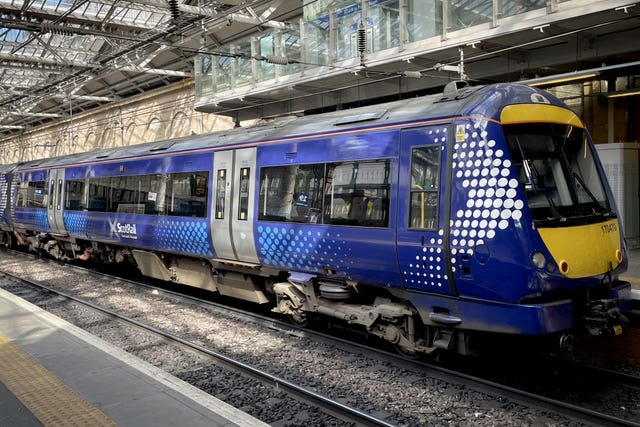 "Passengers using Britain's railways have a right to feel safe and confident to call out these behaviours without fear."
Joanne Maguire, ScotRail chief operating officer, said: "Everyone has the right to go about their day in peace without fear of harassment or abuse.
"ScotRail works very closely with British Transport Police and Network Rail to ensure that Scotland's Railway is a safe environment for our customers and our staff.
"To assist us in tackling unacceptable behaviour, it's important for anyone who witnesses it to report those responsible so that they can be brought to justice.
"This VR experience plays an important role in helping bystanders identify inappropriate behaviour when it takes place."
Further events will be held across Britain over the coming weeks and months.
A spokesperson for British Transport Police said: "Sadly, many sexual offences take place in front of other passengers.
"This campaign plays a vital role in educating passengers on what they can safely and sensitively do if they see someone being harassed. Reports from witnesses are crucial in helping us to remove sexual offenders from the railway.
"Where necessary, we can dispatch officers to meet a train at the next stop. In other instances, a witness report could support a victim's account or help us identify a pattern of offending behaviour.
"We urge you to report any type of sexual behaviour that makes you uncomfortable by texting 61016 or via the Railway Guardian app."