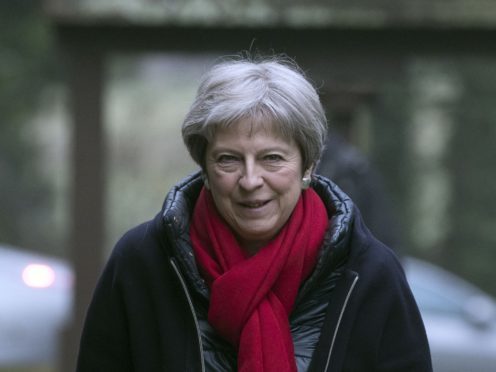 Britain has moved a step closer to potential military action against Syrian President Bashar Assad after Theresa May won the backing of senior ministers for action to deter any further use of chemical weapons by the regime.
Following a two-hour emergency cabinet meeting, Downing Street said ministers had agreed it was "highly likely" Assad was responsible for the attack on Saturday on the rebel-held town of Douma which reportedly left dozens dead.
In a statement issued following the meeting, it said there had been agreement around the cabinet table that such actions should not go "unchallenged" and that the UK would continue to work with the US and France to co-ordinate an international response.
The statement made no direct reference to military action, but will be seen as a signal Britain would be prepared to join any US-led air strikes against the regime should the Americans decide to go ahead – putting it on a potential collision course with Assad's principal backer, Russia.
Earlier US President Donald Trump appeared to row back from a suggestion on Wednesday that missile strikes were imminent, insisting in his latest tweet that he had never set out a timetable for military action.
"Never said when an attack on Syria would take place. Could be very soon or not so soon at all!" he wrote.
At a congressional hearing in Washington, defence secretary General James Mattis also signalled caution, saying the the president had not yet decided whether military force would be part of the US response in Syria.
He said that because the US had no personnel at the site of the suspected chemical attack on Saturday, it has no hard evidence of what happened, although he personally believed it was an "inexcusable" use of chemical weapons.
However the US broadcaster NBC later quoted US officials familiar with the intelligence as saying they had now obtained blood and urine samples which had tested positive for chemical weapons.
The samples were said to have suggested the presence of both chlorine gas and an unnamed nerve agent, with the officials saying they were "confident" in the intelligence, although not 100% sure.
That assessment appeared to echo French President Emmanuel Macron who said they had "proof" that "at least chlorine" was used in the attack by the regime.
Asked in a TV interview whether France would join strikes on Syria, he said: "We will need to take decisions in due course, when we judge it most useful and effective."
The No 10 statement issued following the Cabinet meeting said Mrs May had again described the attack on Douma as a "shocking and barbaric act" which represented a further erosion of international law.
"Cabinet agreed that the Assad regime has a track record of the use of chemical weapons and it is highly likely that the regime is responsible for Saturday's attack," the statement said.
"Following a discussion in which every member present made a contribution, Cabinet agreed it was vital that the use of chemical weapons did not go unchallenged.
"Cabinet agreed on the need to take action to alleviate humanitarian distress and to deter the further use of chemical weapons by the Assad regime."
The statement made no reference to whether Parliament would be given a say on military action – prompting renewed concerns among opposition parties and some Tory MPs that Mrs May is prepared to go ahead without a Commons vote.
Labour leader Jeremy Corbyn insisted that MPs were entitled to a vote, saying Parliament "must be consulted".
"We elect Parliament, we elect members of Parliament. They should have a voice in this. Cabinet on its own should not be making this decision," he said.
"The dangers of bombing now, which could escalate the conflict beyond belief. Just imagine the scenario if an American missile shoots down a Russian plane or vice versa. Where do we go from there?"
Liberal Democrat leader Sir Vince Cable said Parliament "can and should be recalled immediately" while the SNP leader at Westminster Ian Blackford said Mrs May needed to be "very careful" as she had no Commons majority.
Speaking before the Cabinet met, Brexit Secretary David Davis acknowledged that they faced "a very, very delicate circumstance".
"We've got to make this judgment on a very careful, very deliberate, very well thought-through basis, knowing exactly … how strong the evidence is," he said.
Russia meanwhile continued to warn against any use of military force against its Syrian ally.
Foreign ministry spokeswoman Maria Zakharova said: "The threat to use force against a UN member state is, in itself, a blatant violation of the organisation's charter."