Walk-in centres for Covid-19 testing are to be set up to make it easier for people without cars to get tested for the virus.
Six centres are being trialled in Newcastle, Rochdale, Leeds, Brent, Newham and Slough, with the latter described as a hybrid drive and walk through.
The exact location of the centres has not been confirmed by officials but one is understood to be on a basketball court, and there have been reports they will spring up in empty shops and car parks.
A source at the Department of Health and Social Care (DHSC) said officials were working on "walk through testing sites in England for people without cars".
The source said that previously the push was to have testing sites out of the way so there were not "huge" numbers of potentially infected people travelling into the centre of towns.
But they added that now incidence is lower, they can look at ways to safely provide testing "in the heart of communities", in a way that is more easy and accessible to people.
Downing Street said "the right guidance and advice" would ensure the safety of walk-in coronavirus testing centres.
The Prime Minister's official spokesman said: "We have already been setting up mobile testing units to serve communities where needed.
"We want to ensure testing is available in places that are accessible and work for the public across the country."
He added that "walk-in sites is clearly something that we are looking at".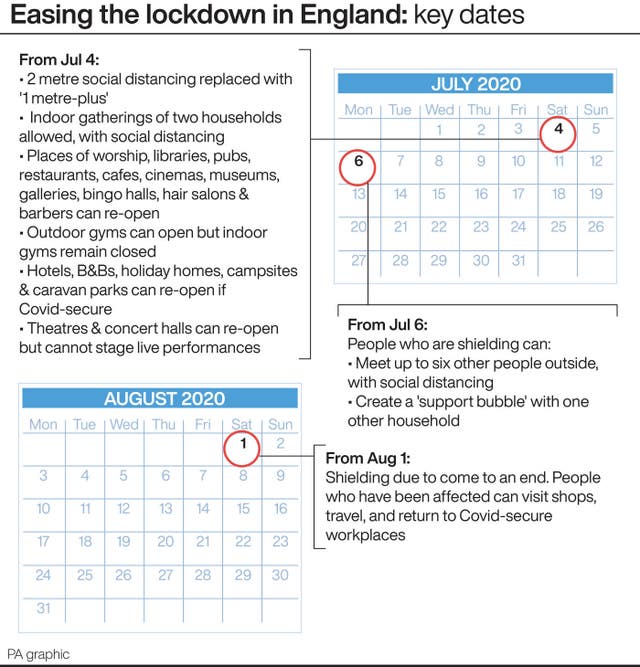 Asked whether that potentially risked people with coronavirus mingling with shoppers or other pedestrians, the spokesman said the DHSC would set out full details of the plan.
"But I'm sure we will make sure the right guidance and advice is in place," the spokesman added.
It comes as the latest NHS Test and Trace figures show that 24% of people (5,062) who tested positive for Covid-19 between May 28 to June 17 and who had been transferred to the tracing system were not reached.
This number includes people who the service was unable to reach because there had been no response to text, email and call reminders. It also includes people who were reached but declined to give details of close contacts.
Shadow health minister Justin Madders said: "To have a quarter of those who test positive not contacted three weeks into the 'world-beating' system is not good enough and urgently needs to be addressed.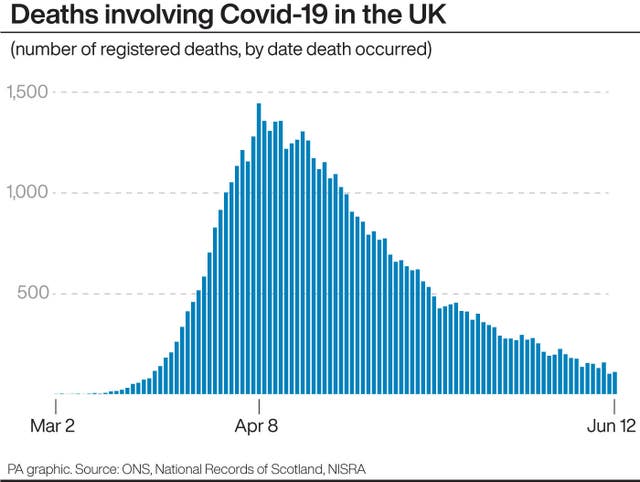 "Expert opinion shows that to defeat this virus we need a fully-functioning test and trace system, so these latest figures still raise major concerns the week before lockdown measures are eased further, especially without a working app."
A total of 20,968 people who tested positive for Covid-19 in England had their case transferred to the contact tracing system during the first three weeks of its operation, according to the figures from the DHSC.
Of this total, 15,225 people (73%) were reached and asked to provide details of recent contacts.
During the first three weeks of Test and Trace, 113,925 people who had been identified as recent close contacts of people who had tested positive for Covid-19 were reached through the tracing system.
This was 89% out of a total of 128,566 identified contacts.
The remaining 14,641 (11%) were identified as close contacts but were not reached.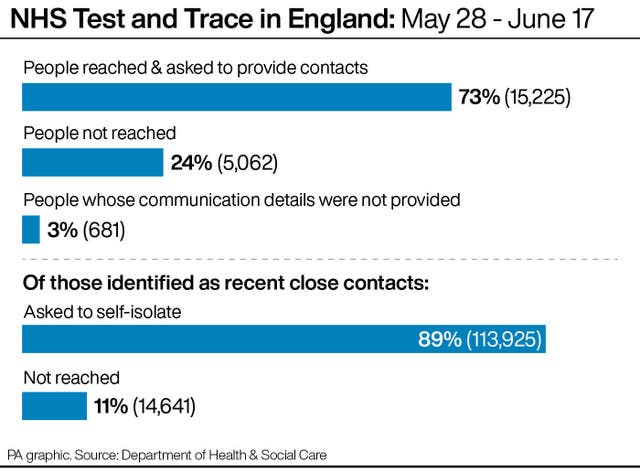 The weekly figures on Test and Trace, which are subject to revision, currently show that in the seven days to June 17 a total of 82% of close contacts of people who had tested positive for Covid-19 were reached and advised to self-isolate.
This compares with 91% of close contacts in both weeks one and two.
In other developments:
– The reproduction number, referred to as R, remains at 0.7 to 0.9. The figures are unchanged from when they were published by the Government Office for Science and the Scientific Advisory Group for Emergencies (Sage) on Friday.
– John Apter, national chairman of the Police Federation in England and Wales, has expressed concern about the Government's decision to ease lockdown restrictions on a Saturday, calling it a "countdown to carnival".
– Figures from the Office for National Statistics (ONS) suggest the decline in the number of people in England estimated to have Covid-19 has levelled off. The ONS said its estimates suggested the percentage testing positive has "clearly decreased over time" since the first measurement on April 26 and that "this downward trend has now flattened".
Meanwhile, plans for air bridges, which will allow Britons to go on holiday to certain destinations without needing to quarantine for 14 days on their return to the UK, are expected to be announced next week.
The first of these air bridges will allow holidaymakers to travel to "low-risk" European destinations, including France, Italy, Spain, Greece and Germany, from July 4, according to newspaper reports.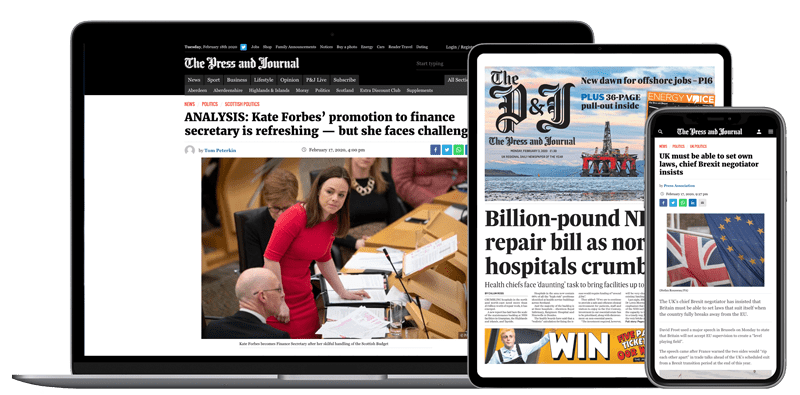 Help support quality local journalism … become a digital subscriber to The Press and Journal
For as little as £5.99 a month you can access all of our content, including Premium articles.
Subscribe