Britain's biggest police force still has hundreds of serving officers who should have been sacked, the Metropolitan Police Commissioner has said.
Sir Mark Rowley said last October that the number of officers and staff being sacked was "massively under-engineered".
And on Monday he said he is "still convinced" that hundreds who should not be in the job remain on the force.
Speaking at an event at the Policy Exchange think tank on Monday as he nears a year in the job, Sir Mark told attendees there is currently no way to sack officers who fail re-vetting.
He told the host, broadcaster Sir Trevor Phillips: "There is no explicit provision in place within police regulations that if a police officer fails their re-vetting, that there is a route to dismiss them, which is clearly completely perverse."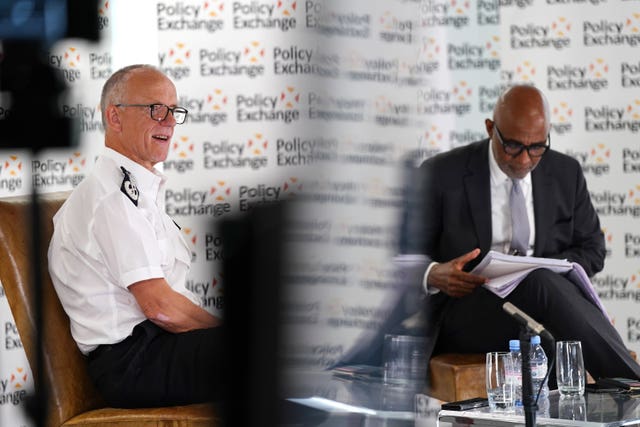 The Government plans to change regulations in the new year to make it easier for force chiefs to sack rogue officers.
In April, the Met said sackings had risen by 70% in six months and suspensions had doubled as bosses moved to crack down on standards.
Force figures for the year to the end of June 2023, released after a freedom of information request by the PA news agency, show the number of officers charged with criminal offences has remained steady.
In the year to June 2021 56 were charged, while the following year that figure was 58 and in the year to June 2023 it was 52.
More figures will be given to the new London police board in the coming weeks, Sir Mark said.
They will show what progress has been made but also where there are blockages stopping force chiefs getting rid of officers and staff.
Sir Mark led his speech with calls to "let the police police".
He said officers face "dispiriting oversight", with their confidence to chase criminals undermined by the prospect of possible prosecution if a suspect is killed or hurt in a pursuit.
He said while around 80% of all prosecutions lead to convictions, for cases where officers are accused of dangerous driving in chases the proportion drops to 30%.
He said: "The IOPC (Independent Office for Police Conduct) and CPS (Crown Prosecution Service) in my view fail to follow the same charging standard for police officers as they do for the wider public, dragging innocent officers through years of stress."
Sir Mark added: "We need to empower and enable the 10s of 1000s of great officers with an oversight system which in future needs to act much more clearly without fear or favour, not getting blown around on whims of opinion.
"So officers know they'll have the right support if they're taking on dangerous people on behalf of the public.
"Dispiriting oversight – unfair oversight – creates hesitancy in their minds and that undermines their ability to confront dangerous criminals."
Tom Whiting, acting director general at the Independent Office for Police Conduct, said: "These comments from the Met Commissioner are disappointing.
"We follow both the legislation and the evidence when it comes to deciding whether to launch criminal investigations, and to refer cases to the CPS.
"We do this without fear or favour, and will continue to do so.
"With public confidence in policing at an all-time low we all have a part to play in rebuilding public trust, and part of that is ensuring that officers who break the law are brought to justice."
Nick Price, head of the CPS Special Crime and Counter Terrorism Division, which prosecutes police dangerous driving cases, said: "We apply the code for crown prosecutors in accordance with the law.
"The guidance applies to everyone and ensures that decisions are fair, transparent and consistent.
"The job of our prosecutors is not to decide whether someone is guilty or innocent, but to present cases to a jury to consider whenever a case meets our legal test."