The "success" of broadcast sentencing in serious criminal cases provides a "strong argument that we need to go further" in allowing cameras to film legal proceedings, the most senior judge in England and Wales has said.
In his final speech in office, Lord Chief Justice Lord Burnett suggested that High Court challenges against the Government with "intense public interest" could be livestreamed, while filmed sentencing could be expanded to more cases.
But the outgoing top judge said that court cases are "not entertainment", with the broadcasting of proceedings in other countries seeing criminal trials become "live soap opera", while celebrities' civil litigation showed "every sign of being used to serve a wider publicity agenda".
Speaking at the Commonwealth Magistrates' and Judges' Association Conference on Sunday, Lord Burnett said he had given "unequivocal support" to proposals to televise sentencing at some crown courts.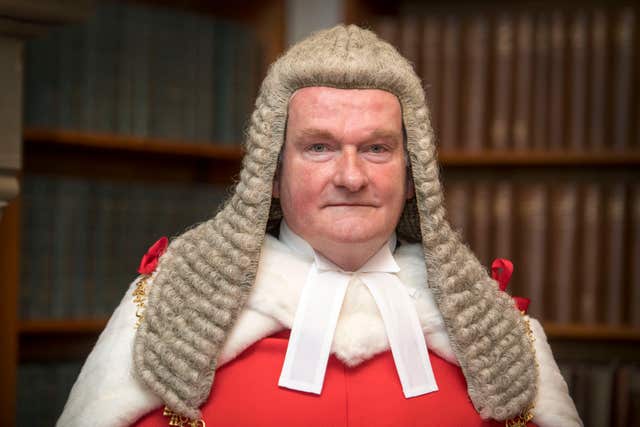 "Since the first set of sentencing remarks was broadcast in July 2022, it has become clear that this innovation has been a success, and successful beyond our expectations," he told the event in Cardiff, Wales.
"Given the success of broadcasting sentencing remarks, as well as broadcasting appellate proceedings, there is a strong argument that we need to go further," Lord Burnett said.
He added: "The question when considering the livestreaming or broadcasting of additional types of case or parts of cases, in my view, should be why not?"
Lord Burnett said sometimes the "status quo" would be maintained, that he was "personally unpersuaded" about broadcasting oral evidence of witnesses, and said that "anonymity and legitimate concerns about privacy or welfare might well tell against much potential broadcasting".
He continued: "But the sentencing remarks in a wider range of cases will inevitably be opened up in time. So too will access to judicial review challenges of government heard in the High Court where there is intense public interest.
"They resemble appellate proceedings dealing with points of law without oral evidence and are suitable for livestreaming."
Lord Burnett said the filming of sentencing remarks would "raise public confidence in the criminal justice system and the judiciary", "myth-busting" the view that judges were "soft on sentencing" and help "enhance understanding of the sentencing process amongst politicians and policymakers".
He added that senior judges were "not monochrome, male and septuagenarian", adding that people were "surprised" to see sentences given by men, women and people from ethnic minorities.
Lord Burnett, who will be replaced as Lord Chief Justice by Dame Sue Carr next month, the first women to take the role, concluded: "Open justice is a necessary foundation of the rule of law.
"That is why we should all give very careful thought in the years to come, as technology continues to reshape our justice systems, to maintaining and, more importantly, enhancing how we give effect to open justice."
Under the Crown Court (Recording and Broadcasting) Order 2020, High Court and Senior Circuit judges are permitted to be filmed as they hand out penalties in criminal cases.
Only the sentencing remarks may be filmed and no other court user, such as defendants, victims, witnesses, jurors or staff, are caught on camera.
Under the current rules, authorised broadcasters – Sky, BBC, ITN and the PA news agency – must apply to broadcast the sentencing remarks and requests are decided by the judge in each case.
In July, the Ministry of Justice said broadcasters had filmed the sentencing of 33 offenders, including Olivia Pratt-Korbel's killer Thomas Cashman and Sarah Everard's murderer Wayne Couzens over his indecent exposure offences.
Child serial killer Lucy Letby's sentencing was also filmed last month.
The Government also previously said proposals to expand televised sentencing at crown courts to more senior judges were being consulted on.
Filming or taking pictures in a crown court case in the UK has been banned from 1925, with anyone caught breaching the rules risking being found in contempt of court.
The Supreme Court has broadcast proceedings since 2009 and civil case hearings at the Court of Appeal are also livestreamed.