Alternative ways of funding repairs at the Syon House estate should be considered by the Duke of Northumberland rather than replacing allotments with dozens of new homes, a planning inquiry has been told.
Ralph Percy, the 12th Duke of Northumberland, lost an application in October 2021 to build 80 flats on part of his Grade-I listed Syon Park estate in west London after the council received more than 900 objections from locals to the plans.
A loss of local open space was one reason behind Hounslow Council's planning committee decision to refuse planning permission.
Members of the public have hailed the site as "a bedrock in our community", an "oasis" and as a "precious pocket of open space", inspector John Longmuir, who is hearing an appeal, was told on Monday.
In closing statements, Ed Grant, for the council, also added "the appellant has a very wide property portfolio but apparently wishes for the Syon estate to pay for itself rather than to receive cross-subsidy from within the wider estate".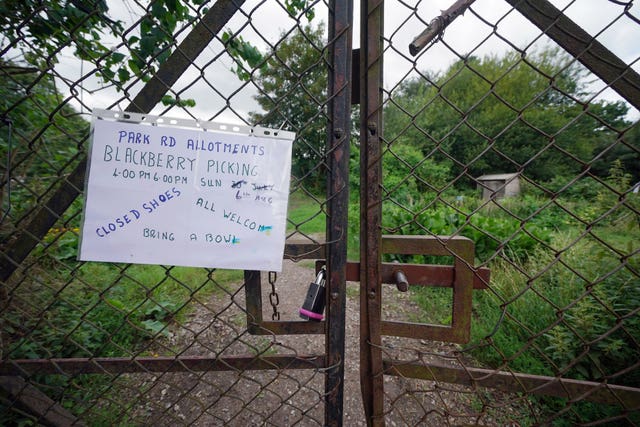 He said the inquiry has heard that it is "a business choice" by Northumberland Estates (NE) to treat the Syon Estate as self-funding.
He said: "The fact they make that choice should not assist an appellant in justifying planning harm.
"Once again, as with the previous appeal, the appellant has declined to disclose any financial information relating to its wider estate."
NE says its plans would help provide an income stream for conservation works to Syon House, which is privately-owned but still open to the public.
Key worker housing for the neighbouring West Middlesex University Hospital has also been promised by NE, that bills the scheme as "an attractive, brilliantly well-functioned development which not only provides homes for people but secures allotment use".
The Isleworth site has been used as allotments since 1917 when the duke's ancestor leased the land to the council to help in the aftermath of the First World War.
Alternative funding could be considered for the NE scheme, but no information has been given as to why it has not tried to get a loan to help with the costs "just as every ordinary person has to consider when they need to carry out repairs but do not have available funds", according to Mr Grant.
A suggestion that private or charitable fundraising could be used drew a response from a NE inquiry witness that this could be time-consuming and charities may not necessarily interested.
Mr Grant has said an offer to provide the same or nearly the same number of the 38 allotments which previously existed is only by providing very small allotments, suitable only for beginners.
Claire Nevin, for the Park Road Allotment Association (PRAA), said the NE's proposal would sacrifice 71% of allotments which is at the heart of a community providing benefits including nature walks, open days, litter picking, blackberry picking and donations to food banks.
PRAA fears it will ensure the "unacceptable loss of a highly valued local open space and fail to replace it with equivalent or better" facilities in a suitable location.
Ms Lucy McCann, for The Isleworth Society said that Ruth Cadbury, the Labour MP for Brentford and Isleworth, stated that Hounslow is exceeding its housing target, including for affordable housing – while Isleworth councillor Salman Shaheen says the borough can meet its housing demands on brownfield sites.
Ms McCann said there is value in trying to save local open spaces as "this will only become rarer and more valuable, especially in built-up and densely populated areas like Hounslow as our climate irreversibly changes".
Losing the site would be "the price that the community would pay for a property development with no community need or justification, and which the appellant has not proven is necessary to maintain the Syon estate", she added.
"Thus it has no other purpose than to further the Northumberland Estates private commercial interests.
"It is the Isleworth Society's submission that the proposed planning application is the antithesis of responsible development."
Syon House was designed by architect Robert Adam and is "one of the great historic houses of England", Melissa Murphy KC, for NE said.
Period dramas such as The Madness Of King George and Gosford Park have been filmed there.
Ms Murphy described the funding of conservation works as "a material planning consideration".
She suggested that national policy ensures "great weight" should be given to conservation and "the more important the asset, the greater the greater the weight should be".
She also said that planning officials have previously heard "there was no suggestion that cross-subsidy would not be taken into account, the contentious issues related to weight".
Ms Murphy said it would provide "benefit of extraordinary significance of a scale and importance rarely seen in the run of normal planning appeals", adding: "The scheme would provide housing for rent including 40% affordable housing plus homes for key workers at the neighbouring hospital.
"The rental income would be spent on Syon House. It would hasten the recladding of the external walls in honey-coloured Bath stone so the house would look as it did when resplendent in the 18th century.
"It would pay for the renovation of the Robert Adam interiors so they can be appreciated in all their magnificent flamboyance.
"These works would make a real difference to the house and to the many visitors who would enjoy and appreciate it in all its glory far sooner than would be the case than without the income are deserving of very great weight."
No date was given for when the appeal decision would to made.