Three former Exeter Chiefs rugby players have completed their climb of Monte Rosa in the Alps, saying the challenge was "much harder" than they expected but their time playing the sport helped in spurring each other on.
Former teammates Greg Bateman, 34, Phil Dollman, 38, and Kai Horstmann, 41, started their ascent of Gran Paradiso on September 7 to allow them to acclimatise to the conditions, before tackling their main scale of Monte Rosa at a summit of 15,203ft (4,634m) on September 10.
They were due to climb Mont Blanc, the highest mountain in the Alps at a summit of 15,771ft (4,809m), but after "extreme heat" caused rockslides on a specific part of the trail with no way through, it was deemed too dangerous to pass.
They said the change to their plans, which saw them take on the second tallest mountain in the range, left them "pretty gutted" – but they were "so chuffed" to have completed the climb.
The trio are fundraising for LooseHeadz, a rugby clothing brand dedicated to supporting the emotional needs of those involved in the sport, with the former players previously saying the aid was "non-existent" during their time in rugby.
They have raised more than £13,000 for the foundation so far.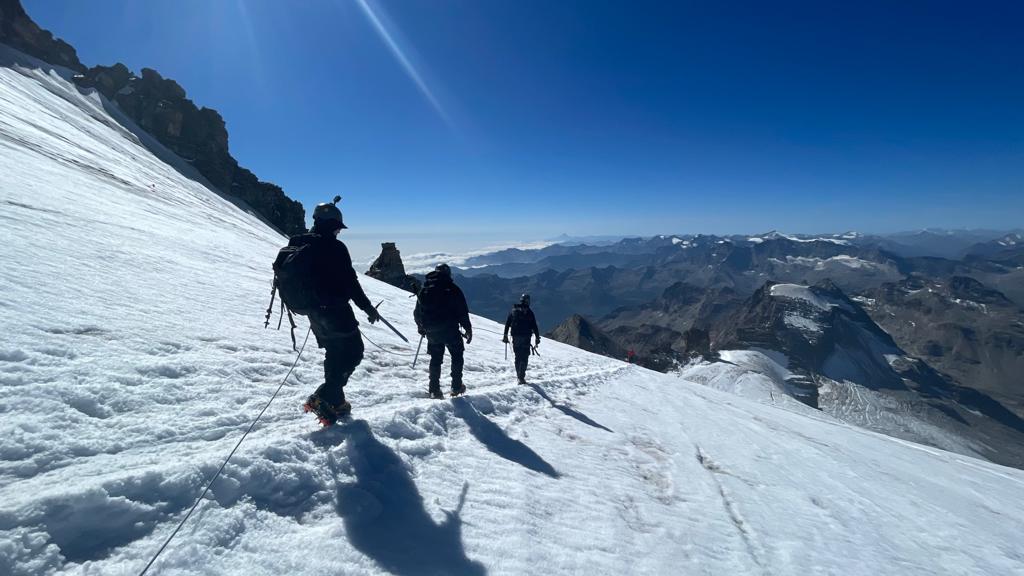 Mr Horstmann, from Exeter, said their time playing the sport together helped in spurring each other through the challenge.
"Because we've played (rugby) together, and we've experienced being in a hard position – nowhere near as hard as this – we kind of know how to help each other through," he told the PA news agency.
"It would have been so hard doing it on your own."
When asked about the challenging moments throughout their climb, Mr Bateman, from Monmouth in Wales, said: "It was so much harder than what we thought it was.
"We knew it was going to be hard, but you don't realise how you'll be affected by altitude, or how you'll manage walking 10-and-a-half hours a day, five days in a row."
Mr Bateman, who suffers with asthma, said he found it "very difficult", saying he was "ready to cash my chips and go home" after their first ascent of Gran Paradiso.
"We all struggled in different ways, but we all got each other through it in different ways," he said.
Mr Horstmann, who works in sales and operations in commercial property, said the "extreme heat", which was "uncharacteristically hot for September", forced them to change their plans of the original ascent of Mont Blanc, but said their climb of Monte Rosa was "just as hard".
"The heat out there was quite extreme and it was causing rockslides on a specific part of Mont Blanc, there's no other way through it," he explained.
"On the day before we were due to go up Mont Blanc, the guys pulled it, so we were all pretty gutted with that."
He added that the change was "tough to take" after they were "shot to bits" from their first scale of Gran Paradiso.
"It was extraordinarily hot, and the guys were saying it's uncharacteristically hot for September, which made climbing every mountain hard as well," he said,
Mr Bateman, the founder of craft beer brand People's Captain, added that they descended Monte Rose "in T-shirts as it was that hot".
Phil Dollman, from Exeter, said "there was constant doubt" over their second climb following their first, but they managed to turn it around with "a bit of support".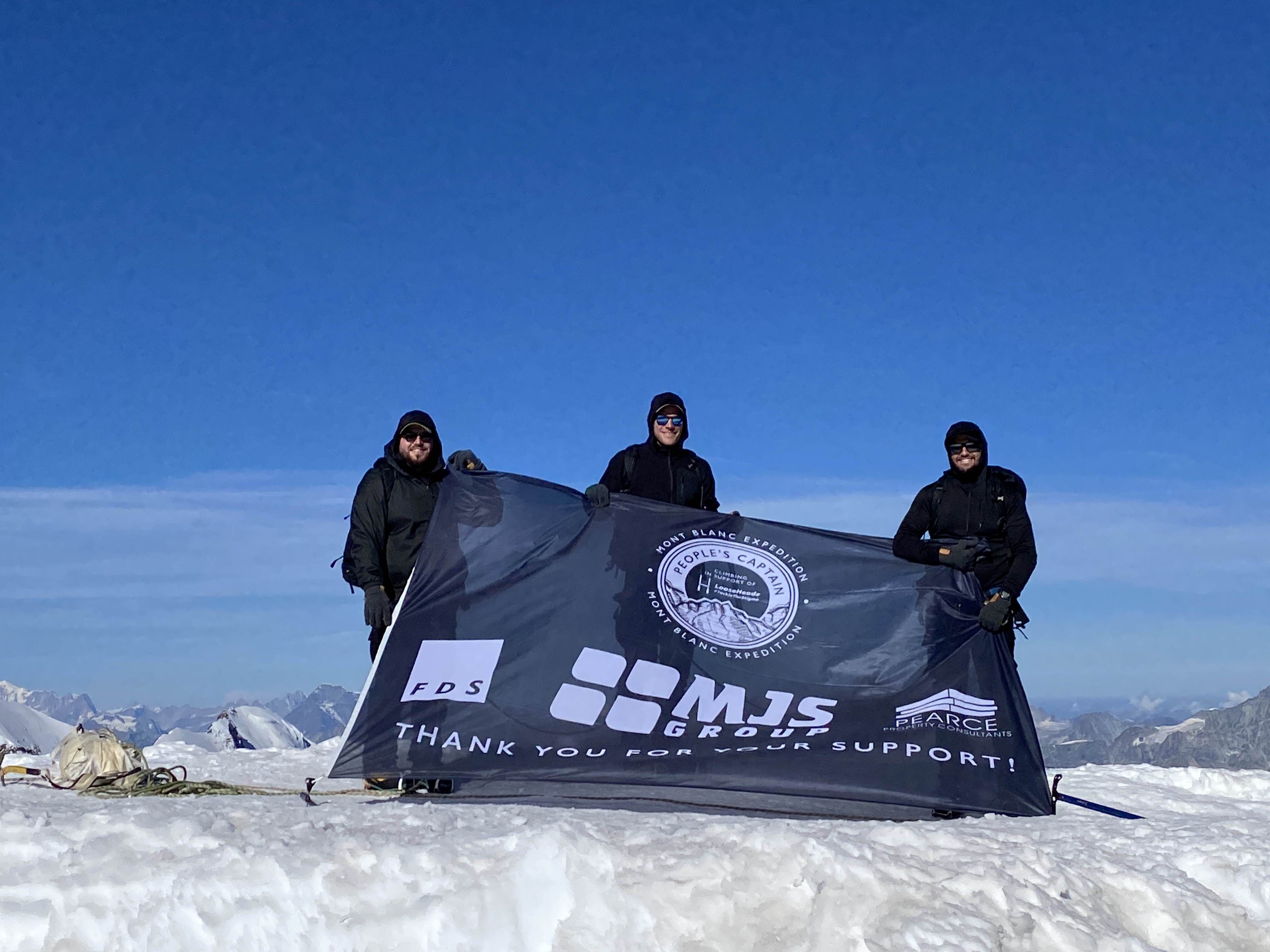 "We just slowly chipped away at it, our spirits improved, and we got into a position where we felt confident to go for the higher mountain.
"We soon turned it around.
"It just shows that when you're in a bit of hurt, you can come out of it with a bit of support around you and a bit of positive thinking."
Mr Horstmann said he was "missing the pain of the mountains" after becoming "addicted" to "accomplishing something that's meaningful".
"Weirdly yesterday I was missing the pain of the mountains," he said.
"You kind of get into a rhythm of, 'right, today we're going to be in pain'.
"But the rewards are, you're in an incredible part of the world, above the clouds, you're kind of literally touching the skies.
"I certainly kind of got a bit addicted to that.
"And I think those endorphins of accomplishing something, and doing something that's meaningful and that matters, it's just felt good."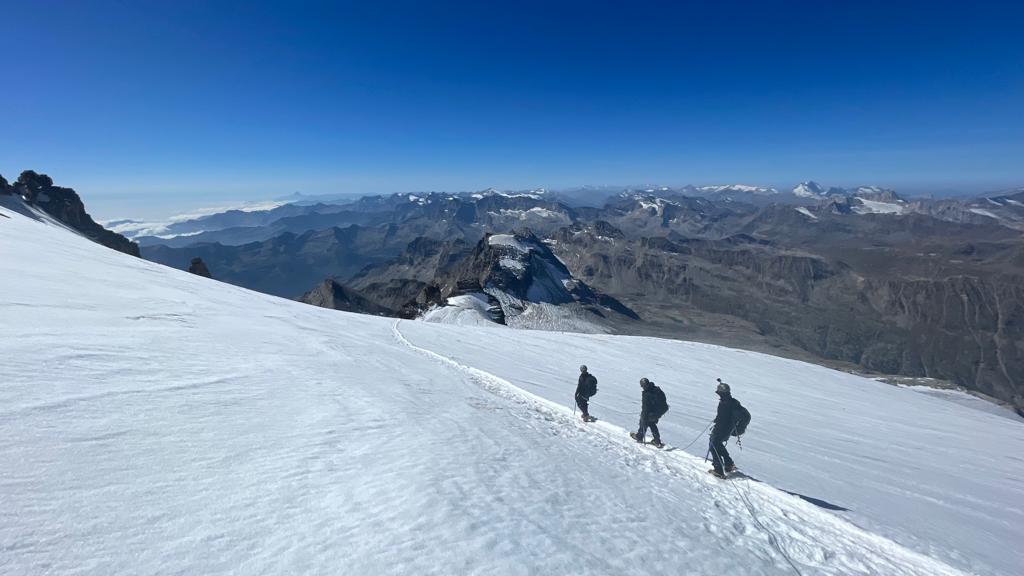 Mr Bateman added: "I felt like I was almost in a bit of shock at the top of Monte Rosa that we had actually done it.
"We got to the top, we had a big hug, but we were all just being really grateful to the guide for getting us there.
"I was so surprised and shocked that we'd done it."
The former teammates have raised over £13,000 for LooseHeadz from around 190 donations from the public.
"We would have only felt like this was worthwhile if those 190 people had put their hands in their pockets to put some money together," Mr Bateman said.
"It's at a hard time for people at the moment.
"A lot of those people came on the journey with us – we did it with and for them."
Mr Bateman added that the sponsorship behind their venture, from People's Captain, MJS Group, Pearce Properties and Fire Defence Services, meant that "every single pound and penny donated went directly to LooseHeadz".
Dave Nicoll, co-founder of LooseHeadz, said: "We are truly humbled by the incredible efforts of Greg, Kai and Phil.
"The money raised is absolutely vital as a small charity, and will allow us to continue building on our mission to place a mental health lead into every rugby club around the world.
"The guys have raised an unbelievable sum of money for the LooseHeadz Foundation which will be used to continue developing new resources for our toolkit, and to help us provide more in person resources within rugby clubs."
Their fundraising page can be found at justgiving.com/page/tacklingmontblanc-1680250756704