The father of 14-year-old Molly Russell – who took her own life after viewing suicide content online – has called on Ofcom to be "bold and act fast" once the Online Safety Bill becomes law.
Ian Russell said he believed the Bill, which has been years in the drafting and imposes new legal duties on big tech companies and service providers, would "make the online world safer".
He said the regulator would need to take action immediately to ensure the Bill, which is expected to be made law soon by Parliament, was enforced.
Speaking on BBC's Sunday with Laura Kuenssberg, he said: "It's not perfect but it's an important step, and it's a step that has been needed for years to to counter this new technology, to counter these changes that are happening so fast that society doesn't quite know what to do with."
Last September, a coroner ruled schoolgirl Molly, from Harrow, north-west London, died from "an act of self-harm while suffering from depression and the negative effects of online content" in November 2017.
Calling on Ofcom to take immediate action once the Bill is passed, Mr Russell said: "There are many other families, too many tragic stories to tell, some like Molly's and some quite different, but if the Bill fails to stop online harms that all our children saw, then it will have failed.
"Once this becomes law, we're in a new phase where Ofcom as the regulator appointed by the Government to police the internet, to regulate the tech industry, has to get out of the blocks really fast.
"It can't waste time, it has to move fast and be bold and enact the clauses set out in the Bill in order to make the online world safer for children."
Mr Russell said he was "confident" the Bill would be effective as it was designed to be "future-proof" by not being "technology specific".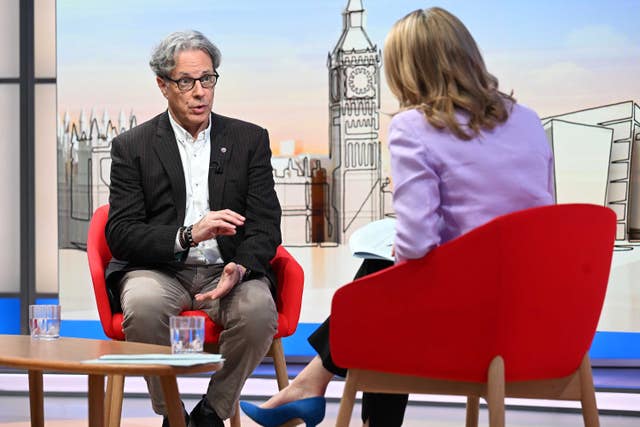 He said: "Ofcom have got a really tough job. They're going up against some of the biggest, most well-funded corporations on the planet.
"But they have already been staffing up, they've got hundreds of people working on online safety already, I'm sure they will be recruiting more people."
Mr Russell said he believed possible sanctions including jail terms for those in charge of technology firms would be an important part of the new law.
He said: "Jail terms for tech bosses are important, not because I think tech bosses will ever end up going to jail, but I think it focuses their minds.
"What is really needed is a change of corporate culture at these big institutions. In two decades of social media, nothing's really changed."
Describing his personal motivation for campaigning on the issue, he said: "I hope Molly would be proud and we hope that this step, the new Online Safety Bill, will mean there are fewer of those families with stories like Molly's in the future."
An Ofcom spokesman said: "We're ready to start and very soon after the Bill receives royal assent we'll set out the first set of standards that we'll expect tech firms to meet in tackling illegal online harms."
On Tuesday, Technology Secretary Michelle Donelan insisted that the long-awaited legislation had not watered down measures to curb encryption.
End-to-end encryption is a security measure that protects data and communications by scrambling them, meaning only the sender and recipient can read the data.
It is widely used to safeguard sensitive information, with Signal and fellow messaging service WhatsApp among its high-profile users.
Tech firms had said a provision in the Online Safety Bill would give the regulator the power to try to force the release of private messages on end-to-end encrypted communication services.
WhatsApp and other messaging services said they would look at pulling out of the UK rather than compromise people's ability to communicate securely.
But a statement by digital minister Lord Parkinson in the Lords in September was seen by some as confirmation of the Government stepping back and amending its approach.
Ms Donelan said on Tuesday nothing had changed in the Bill, which she said contained a "safety net" that "may never have to be used".
It is believed that the Bill could clear all stages of Parliament by Tuesday, pending royal assent.