More than a month's rain could have fallen in a day across parts of the UK by the end of Sunday – causing floods which pose a danger to life.
Travel has been disrupted by the downpours, which caused Exeter Airport to close and cancel its remaining flights on Sunday.
An airport spokesman said: "Following Sunday afternoon's flash flooding which caused the closure of the airport, our teams are working through the night cleaning up and we expect to be open tomorrow morning, Monday.
"Passengers are advised to check with their airline for the very latest information about their flight, and please bear with us while we do our very best to return all airport operations to normal."
Videos posted on social media showed a flooded main terminal.
An amber weather warning for thunderstorms across parts of Devon and Somerset is in place until 4pm on Sunday.
A yellow warning for thunderstorms is in place across the rest of the south-west of England and South Wales until 6pm on Sunday.
A similar warning has been issued for London, the south-east and east of England and the East Midlands until 6am on Monday.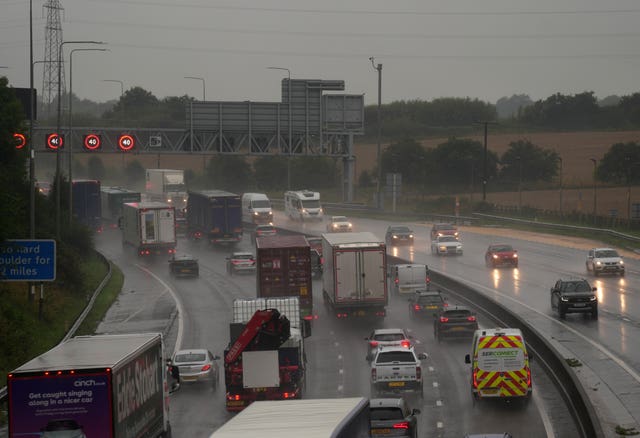 Heavy rain brought "torrential downpours" across the south-west of England on Sunday morning, with localised flooding in south Devon.
Areas affected by the amber warning are likely to be flooded and people should expect some disruption to travel.
The Met Office said an additional 25mm-50mm of rain is expected to fall in the affected area on top of the 30mm-60mm that has already fallen in the past 12 hours.
This will mean more than 100mm of rain may have fallen by the end of Sunday in an area where the September average is 92.45mm.
Other parts of the UK could see at least half a month's rain fall in less than 24 hours.
In areas with an amber warning, damage to homes and businesses is "likely" and could happen quickly while floodwater poses a danger to life.
Buildings could also be damaged by lightning, hail or strong winds.
Power cuts are likely to occur and other services to homes and businesses may well be lost.
Difficult driving conditions and some road closures are to be expected while train and bus cancellations are also likely.
In areas with a yellow warning, there is a "small chance" conditions could pose a danger to life.
Flooding to homes and businesses, power cuts, a loss of other services to homes and travel disruption are all also possible but less likely.
The band of rain affecting the south-west of England is expected to move into the south-east of England on Sunday afternoon.
Met Office meteorologist Jonathan Vautrey said: "It is certainly worth keeping up to date with the forecast.
"It is worth checking those things immediately before you head out on your journey so that you are aware where the most severe thunderstorms are possible.
"Make sure you are taking care as the weather could change at very short lead times and just be prepared for those gusty winds and potentially large hailstorms."
Conditions are expected to remain "blustery at times" early next week but are likely to be fresher.
More storms are possible as the remnants of Hurricane Lee, which hit New England in the US and eastern Canada, is set to move across the UK between Tuesday and Thursday.
It will no longer be a hurricane by the time it reaches UK shores.
Mr Vautrey said: "That will be getting picked up by the jet stream. Showers in places could be heavy with a risk of further thunderstorms.
"It could be quite an unsettled, autumnal week to come."