Environmentalists have held a wake to mark the "death" of the UK and Ireland's largest freshwater lake as they accused polluters of causing a huge bloom of toxic blue-green algae.
Activists dressed in black and carried a makeshift coffin to the shore of Lough Neagh in Northern Ireland on Sunday afternoon.
A wreath with the name of the lough was placed atop the black coffin during an event on Ballyronan beach, Co Londonderry, organised to highlight the scale of the ecological damage.
Lough Neagh supplies 40% of Northern Ireland's drinking water. It also sustains a major eel fishing industry.
Noxious blooms of algae have covered large parts of the lough across the summer. Other waterways in Northern Ireland have also been impacted by the issue.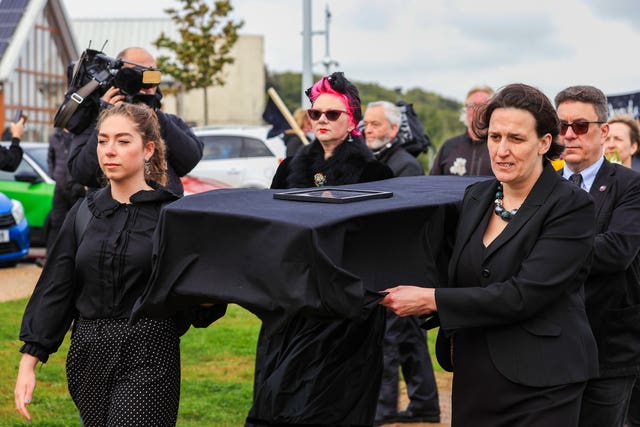 The algae growth is linked to excess nutrients in the water.
Nitrogen and phosphorus from agricultural fertiliser running off fields is believed to be a major contributory factor.
The spread of the invasive Zebra mussel species is also understood to have played a role, as they have made the water clearer, allowing more sunlight to penetrate, stimulating more algal photosynthesis.
Climate change is another factor cited, with the temperature of the lough having risen by one degree Celsius in the last two decades.
The deaths of birds and dogs have been linked to the recent algae blooms and anglers are being urged not to eat anything they catch.
A number of water-based businesses on Lough Neagh have also had to stop operating.
NI Water has insisted that its intensive treatment processes mean there is no health risk associated with drinking water sourced from the lough.
Civil servants at Stormont are attempting to co-ordinate efforts to take action, but critics claims the current lack of devolved government in Northern Ireland is hindering the response.
Dr Louise Taylor from campaign group Love our Lough helped organise Sunday's wake.
"Lough Neagh has been treated like a dump and cess pit for decades and generations, it has not been protected," she told the PA news agency.
"It is the largest freshwater lake in the UK and Ireland and it's currently in an ecological crisis and it's now a public health emergency."
She said the wildlife have "nowhere to go".
"This is their home. They can't escape this. We can stay away or we can be very careful about making physical contact, but the wildlife have nowhere to go," she said.
Dr Taylor said in the future children may have to go to a museum to see a Lough Neagh eel.
"Lough Neagh has no rights as an ecosystem to thrive and live at this point, whereas the polluters have more rights," she added.
"And until that is addressed, until that imbalance is really considered, then it will continue where we see that pollution can just be done and there's nothing to protect the lough or put those barriers or those obstacles in place to actually stop pollution."
Gerry Darby, who is manager of the Lough Neagh Partnership, said steps could be taken to address the situation if more leadership was shown.
"There are things that can be done, and I wouldn't be too apocalyptic in terms of saying the lough's done, the lough's over," he said.
"The lough had a big bloom way back in the '70s and it did recover from that."
He said the lack of devolved ministers at Stormont did not mean action could not be taken by civil servants.
"There's heads of civil servants still here, there's departments still here, there's lots of people still here," he said.
"It doesn't take any money to ring up, for the five (Stormont) department heads to ring up and go 'can we meet sometime in the next couple of weeks to discuss the biggest environmental issue in Northern Ireland?'.
"That doesn't take money, that takes just leadership, and it takes good communication, and, in my opinion, there has been very poor leadership and there's been very poor communication from the departments, particularly to local people here who are concerned about the potential death of the lough and also safety issues as well."
Mary O'Hagan and her daughter Katie attended the event on Sunday.
"I would be an open water swimmer and I do a bit of open water coaching as well and from when this started in June, I've not been able to access the lough whatsoever," said Ms O'Hagan.
"For me personally that has been completely devastating because I would always have used the lough as a method of pain relief because I have a number of chronic health conditions. And I always would have used the cold water as a method of pain relief. And also as a way to keep myself in good mental health, because I've suffered with depression for a lot of years.
"So, that's all gone. For me, if I was having a bad day, physically or mentally, the first thing I did was jump in the car and come here.
"This is my closest place to access the water. Overnight, that was taken away. Gone. So, my coping mechanism is gone. It's not only me; it's gone for a lot of people."