A cancer survivor, a shop worker, two teenagers and a five-year-old girl were among the 10 people killed in the explosion at an Irish village's service station last year.
All victims were from the area around Creeslough in Co Donegal, compounding the tragedy that hit the rural community.
In the days after the blast ripped through its retail hub, funerals for the victims were held in succession, with loved ones and locals gathering to mourn the people they had lost.
Those who died were Robert Garwe and his five-year-old daughter Shauna Flanagan Garwe, Catherine O'Donnell and her 13-year-old son James Monaghan; Sydney native James O'Flaherty, student Jessica Gallagher, Celtic fan Martin McGill, carpenter Hugh Kelly, shop worker Martina Martin, and 14-year-old Leona Harper.
– Robert Garwe, 50 and Shauna Flanagan Garwe, five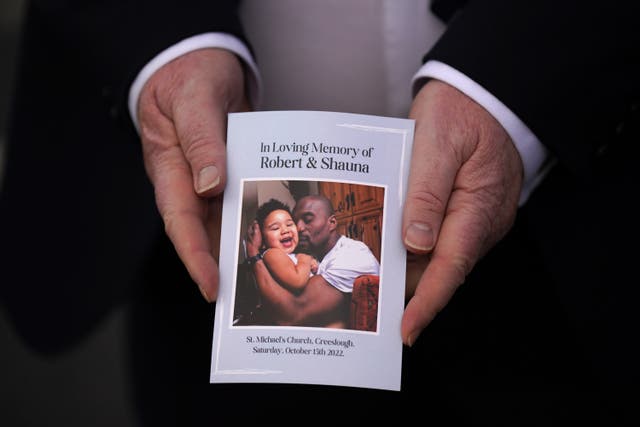 Shauna was at the shop at the service station with her father Robert to buy a birthday cake for her mother on the afternoon of October 7 last year.
She was described as a chatty, bubbly girl who loved art and animals, and had just started school weeks before the blast.
Mr Garwe, who worked in construction, was remembered as being proud of his children and his Zimbabwean roots.
Locals said he could often be seen travelling around the village on his scooter.
– Hugh Kelly, 59
"Hughie" Kelly, who had brought Mr Garwe and Shauna to the shop, was a well-known farmhand and carpenter in the area.
Mr Kelly was said to be able to do everything from replacing a skirting board to making cradles, dolls, fairy doors and jewellery boxes for his nieces.
He had also received treatment for cancer and was told he was in remission just three weeks before the explosion.
– Martina Martin, 49
The mother-of-four was working in the service station stop at the time of the blast.
She was described as a caring person who helped friends with their problems and was the life of the party.
Mrs Martin was also a frontline worker who worked in the shop throughout the Covid-19 pandemic.
– James O'Flaherty, 48
Originally from Sydney in Australia, Mr O'Flaherty lived in Dunfanaghy, just miles outside Creeslough.
An engineer, he had worked on projects around the world and was described as a devoted father and husband who read to his son every night.
Mr O'Flaherty's 12-year-old son Hamish delivered a heartfelt address at his father's funeral, in which he encouraged people to use the time they have wisely and to cherish their families.
– Leona Harper, 14
The teenager lived in nearby Ramelton and studied at Mulroy College.
She was in Creeslough for a sleepover at a friend's house and is believed to have gone to the Applegreen shop to buy sweets and ice cream.
She had various interests including music and dance, animals and the outdoors, fishing, and a passion for tractors.
She was also described as a talented rugby player, a Liverpool supporter, and had recently been inspired to take up boxing by the successes of Kelly Harrington and Katie Taylor.
– Jessica Gallagher, 24
Ms Gallagher, a fashion designer, had been due to start a new job in Belfast the week after the Creeslough explosion.
She was visiting her boyfriend Conor's apartment above the Applegreen service station when the blast struck.
A fashion and marketing graduate from the International Fashion Academy in Paris, she had also studied in Shanghai and used Donegal tweed in her designs.
– Martin McGill, 49
Originally from Scotland, Mr McGill had lived in Creeslough for years and cared for his elderly mother, Mary.
He was an avid fan of Celtic Football Club, and grew up in Kirkintilloch, north of Glasgow.
He was said to be regularly in the Creeslough service station shop to run errands for people.
– Catherine O'Donnell, 39 and James Monaghan, 13
The mother and son were in the queue at the post office inside the shop at the Applegreen service station.
James had just finished school for the week at nearby Mulroy College in Milford, where Ms Harper was also a pupil.